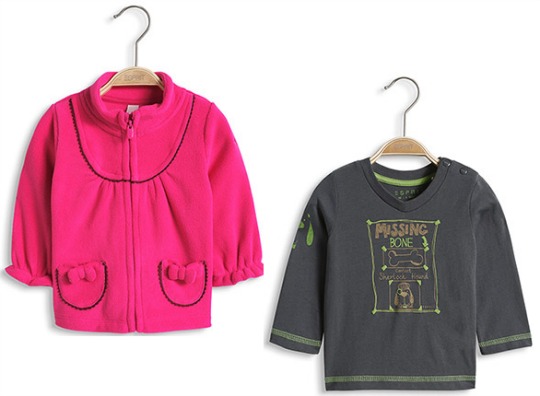 Esprit is a retailer that I find a bit on the expensive side. One thing is for sure, the quality is certainly better than a lot on the High Street. Their sale is worth a nosey, with childrenswear items starting from just £3.99 delivered. The selection is great and there's a real good mixture for boys and girls for ages spanning from baby to teenager. Garments have up to 75% off so there's something to suit all budgets. Esprit offer FREE delivery on all orders.
If you want a change from Next, River Island etc for kids clothes then Esprit is the place to go. They aren't all about the latest trends but bright colours and nice materials.
The babywear sale selection is super with items like Fluffy Curly Faux Sheepskin Coat* reduced from £35 down to £24.99, Jeans with Jersey Lining* from £19.99 to £9.99 and Twin Pack Of Long Sleeved Tops* from £15 to £9.99.
There's many bargains to be found in the Mini Girls*, Mini Boys*, Youth Girls* and Youth Boys*. Too many to list.
Remember delivery is completely FREE on all orders on the Esprit website, no minimum spend.