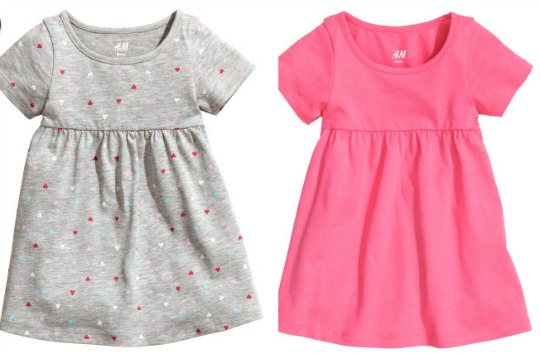 There are some great offers on babywear over at H&M right now and by stacking the offers you really can pick up some bargains.
There's a range on 3 For 2 and if you choose three items from this section and then add the codes 2299 and 2946 at checkout you also get 20% off and free delivery too! The 3 baby summer dresses in the picture for example, those are £3.99 each but you can buy THREE for £6.12 and that's delivered.
You don't have to use the codes on the 3 For 2 section of course, that's only one option to maximise the savings. Nada told you about the £6.99 outfit offer yesterday* Well if you're choosing a top and bottoms from the baby section, add both codes and the price will drop to £5.58 (Note you'll have to add something else to qualify for the order to be delivered as H&M don't despatch orders of less than £6)
The 2299 code for 20% off will only work on full price babywear (0-18 months) Just something to check if you find it's not working for you.
It's a great time to stock up if you're expecting, looking for a new baby gift or just starting your own child's summer wardrobe.
You'll find that voucher code for H&M, along with lots of others, over in our voucher section.