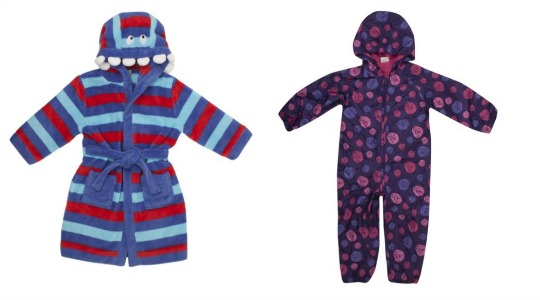 With the January sales fading away, there are a fresh load of new offers waiting to take their place. Boots have 25% off selected Mini Club baby and kid's clothing, and with prices from as little as £1.87 there are certainly some good bargains to be had.
The cheapest items you would expect to be accessories or undies, but in fact you can get a long sleeved t-shirt in either pink* or blue*, and in sizes all the way from 6 months to 6 years. The price doesn't even increase with the larger sizes as it does in Asda or M&S.
I'm going to grab one of the packaway puddle suits that are down from £16 to £12, as these are a fab idea for popping in your bag for a run to the park. We get a lot of downpours here and this is a great price as well as really cleverly designed. There is a purple girls design* and a camouflage patterned boys version*. Again these are available in sizes from 6 months to 6 years.
The kids dressing gowns* are selling really well, and at £9.75 with such cute monster detailing on the hoods I'm not at all surprised. The 8 piece starter sets* are now £8.99 each which makes them great value, and they would make a great new baby or baby shower gift.
There are more than 300 lines included in this promotion, so there's a great variety of baby and kids clothing items on offer, and it's well worth a look.