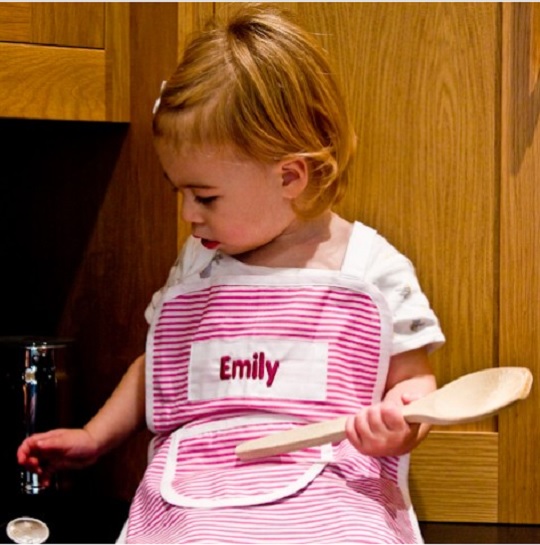 Most parents really enjoy baking and cooking with their kids. There's something very sweet about little hands covered in flour and a huge chocolately grin as they lick the spoon when everything is done. So when My 1st Years offered to send me a personalised apron for my daughter to review, I leapt at the chance.
You can choose from a range of different styles on the site, and these include parents so you can get a scrummy one as a gift for someone special in your family. The children's aprons are available in blue or pink and have a different pattern on each. The pink has a candy stripe and the blue has yellow stars.
What's really lovely about these aprons from My 1st Years is the price. You pay £14 for a personalised apron that comes with front and top ties, personalised name area and a front pocket. I think that's good value for money.
So, what was the quality of the apron like? It arrived very quickly after ordering and came in a lovely presentation box and wrapped in tissue paper. My daughter unwrapped it with reverence and absolutely loved it on sight. The apron is well made with sturdy stitching for the seams and the ties – I have an apron that lost one of its ties in the wash! This will last you some time.
The fabric is surprisingly thin, though, and this did take me by surprise. I think it is because I am used to aprons made with very sturdy fabrics whereas this is light and thin. I don't think this is a bad thing and it still keeps her nice and clean while whipping up a batch of fudge and it is 100% cotton, lovely.
You can choose the colour of the text for their name when you personalise it and it is completely free. I give this 9/10 and a Worth Every Penny award too.