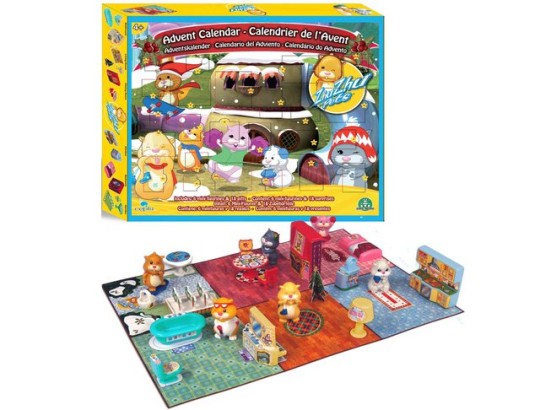 I know it's really just that little bit early to be thinking about Advent Calendars but when something comes along that's basically a giveaway, you kind of have to go with it. Amazon seller net_price_direct are selling the Zhu Zhu Pets Advent Calendars for £1.99 and £1.95 delivered. This is cheaper than the same store are selling it on eBay, and £2 less than anywhere else on eBay, but £15 cheaper than other non-eBay stores. Bizarrely, if you buy two your shipping drops down to £1.72 and you can get two for £5.70 delivered. 
I love stuff like this rather than more sweets and chocolates for Christmas, and this set comes with six Mini Zhu Zhu Hamsters, and 18 accessories for Mini - Zhu Zhu Hamsters home world. The calendar itself turns into a flat for the Mini Zhu Zhus once it's done.
Suitable for ages 4 and up, the reviews on this are really good for even older kids, but many say that the pieces are very small, so really not suitable for smaller children.
I had to laugh at the negative review who complained that there 'wasn't even a door for Christmas'. Well, there's just no pleasing some folk.  Interestingly the people who loved it commented along the lines of "Just make sure you take out the stickers and floor from the box before day 1." I suppose being able to actually decorate and build each prop on the day adds to the value of the experience.