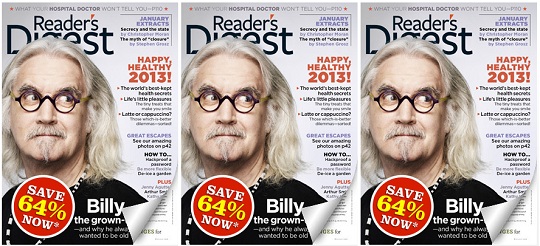 Save an incredible £30.58 on a year's subscription to Readers Digest! That means that each of the 12 issues costs just £1.24! Normally £45.48 for a year's worth of entertainment, that means you save a fantastic 64%!
When I was at university, I subscribed to Readers Digest because it came with a free watch (true story!). Now that I'm a busy working mom I love Readers Digest's features that are short enough to be read on the go, but stimulating enough to keep me thinking for days. They're packed with entertainment, inspiration and information and you don't even need to pop down to the newsagents – its all delivered directly to your door!
Each issue is filled with delicious recipes, top trivia and guides to films, books and travel. Plus the inspirational real-life stories, insightful journalism and in-depth features on the stories behind the headlines will bring you up to date with what's going on out in the real world and make you feel better about that issue of Heat filled with Kardashian stuff.