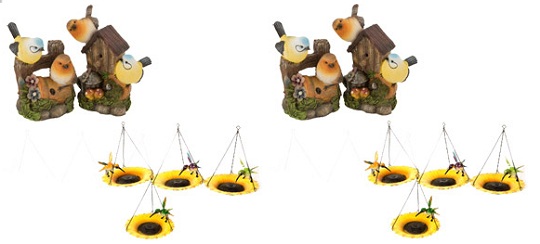 Get the Sunflower Humming Bird Feeder and Motion Activated Tweeting Birds Set from Readers Digest this Christmas. The set is £18.99 and will be an awesome gift for bird watchers and gardeners alike.
In nature, the glorious golden sunflower hides a reservoir of nectar, designed to attract beautiful birds into your garden. These four attractive sunflower bird feeders are ready to be hung by their chains from a convenient branch or bracket, perfect for giving you a bird's-eye view of your feathered visitors.
2 Assorted Motion Activated Tweeting Birds. Bring the sounds of nature to your garden. Using authentic birdcalls, these superbly-crafted models burst into cheerful song whenever somebody walks by. It means you can enjoy the sounds of springtime in your garden throughout the year, though of course you can disable the tweeting whenever you would prefer, to enjoy these delightful figures in silence.