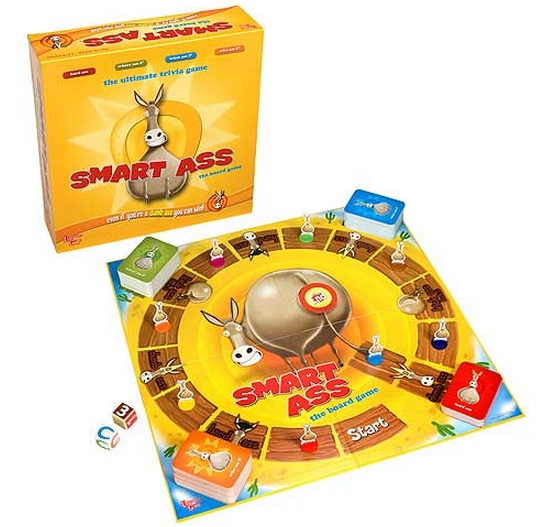 You need to get a board game for Christmas. This isn't just an idea. It is an obligation like Christmas pudding, Eastenders, and the Queen's Speech. At some point, too full of food to move for charades, and with a desire to be more sociable than just staring at the telly, it'll be time to get a board game out. What you want is something new, something fun, and something that will have everyone laughing. And something that could also make a fabulous Chirstmas Gift.
University Games reckons it has just the right thing with its Smart Ass board game. We weren't so sure so I took on the job of trying it out. So you don't have to! Just sit back and read my review, and make your own mind up. Simple!

Smart Ass Board Game
I like to have a little bit of fun together on Christmas day, or on Boxing day. Especially if the weather is just too awful to even think about going for a family walk outdoors. Smart Ass The Board Game (£14.99). According to the box it can be played with between two and eight players and is recommended for ages 12 years and upwards. I think though that many 8 year olds will be able to grasp the rules and game play.
The blurb on the website asks "Have you ever played a game and been bursting to yell out the answer even when it's not your turn? Well here's your chance! ". And that pretty much sums up the game. Each Who, What, and Where Am I card has ten clues. The first player who yells out the correct answer moves one step closer to being the overall Smart Ass. In other words, you get to move when answering a question correctly and the first person to reach the middle of the board wins.
There's a fourth category, the 'Hard Ass' questions, just to make things interesting. And also, the clues get easier as each one is read out, so if you think you've got the answer it is important to shout out before anyone else. This means most of the players just make lots of blind guesses and that makes it even more fun. Plus it means you don't need a lot of general knowledge to play the game, which helps the game cross all age levels.

We formed teams, with an adult and a child and I think you could probably expand this game to include any number of people doing it this way. Then the adults were also able to help nudge the kids along if they weren't quite getting it.
Thinking ahead to Christmas, I think another major selling point for this game is that it is really easy to set up and there's no complicated rules or instructions to figure out. I think after a huge dinner with all the trimmings, a few glasses of wine and maybe some sherry or port the last think I want to have to do is try and read instructions.
The game is fairly well constructed too, with the cards and board looking like they'll last quite a few Christmases. Also it comes in a really sturdy box so handy for storage.
Younger players may well find the fact that the winning position, in the middle of the board, is in fact the donkey's butt. Well my seven year old certainly found that most amusing!
Although I think it is pitched just right for large groups of mixed age and ability, I'm not so sure this is a good game if there's just two or three players. Unless you bring in some other element - like as a drinking game! We hadn't played it often enough but I think that it will be quite easy to memorise all the questions and answers if you play it too often. There's 500 questions according to the box, which sounds like a lot, but when looking at the piles of cards it seems rather less when compared to something like, say, Trivial Pursuit.
There's a large element of chance involved too, which can be a lot of fun if you're got a real 'smart ass' in your group. You know  - there's one in every family! They know ALL the answers and are generally poor losers. Well in this game, as our 'smart ass' found out, knowing all the answers to more questions than anyone else doesn't guarantee you'll win if you keep landing on squares that make you go back five spaces!
Pros: game built to last, lots of gameplay for a large group of mixed ability and ages
Cons: probably not so interesting if there's just a couple of you, and easy to memorise the answers if you play it too frequently
Overall verdict: 8/10