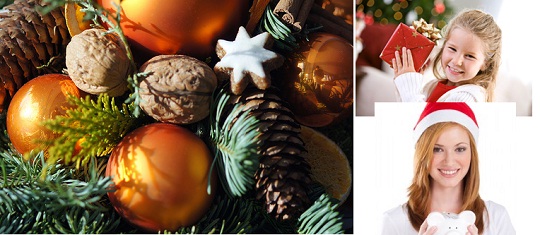 You might already be feeling the strain, the tugs on the purse strings that announce the imminent arrival of Christmas. As you read this feature, there is just over a month to go until the big day.
To be honest, I'm not as well prepared as I was last year. I had already got most of my son's stocking filler presents by now, and had bought family presents as early as August. I'd also already started stocking up on non-perishable essentials from September. Such as tin foil for cooking, spices for the Christmas baking, and even wrapping paper.
So far this year, I only have a few items. I just haven't had the energy or the time to devote to it this year. Perhaps what I need is a way of forcing myself to at least put the money aside so that no matter what, I'll at least have the cash or the vouchers to go shopping with if not the actual items themselves.
It is too late to start now for this Christmas, but now is a good time to be thinking about joining one of these for Christmas 2012.
Christmas clubs
These use savings cards or stamps that you buy each week. Of the ones I looked at none pay interest, which is a definite downside given they're getting your money for a whole year (or thereabouts). But they are often far more convenient and useful for people who just want to put aside a small amount each month - typically from £2 to £10.
Despite the memories of the awful wake left by the collapse of Christmas club Farepak back in 2006, lots of people still prefer to use Christmas clubs. So, with all the bad press, and the lack of things like interest, why do people still use them? The Treasury launched an investigation into just that question after the whole Farepak debacle. It found that the clubs are used by people who simply don't trust themselves not to use their savings on other things throughout the year. That would probably apply to me!
How safe would your money be in one of these schemes? First, read the Terms and Conditions. What happens to your money should the firm collapse should be clearly spelt out there.
There's now also the Christmas Prepayment Association (CPA), an independent body set up five years ago that guarantees clubs. In turn the clubs that belong to the association must adhere to a code of practice. The CPA keeps the funds in a trust, thus offering protection for savers' money. There are now  five active clubs in the CPA, representing the majority of this particular market. Although really there are three, as the Country and Family Christmas Savings Clubs are part of Park.  The other three are Park Christmas Savings, Variety Christmas Savings Club, and FlexEsaver.
Christmas Savings
Another option is to open a savings account for Christmas. This could be just a basic account you use solely for Christmas - if you're fairly strong willed and know you won't be tempted to dip in. An alternative is to use an account that allows you to make just one withdrawal a year, handy for saving for any special occasion.
Building societies are a good place to find those sorts of accounts. Some might have requirements, such as be just for children. Others offer a higher rate of interest provided you make a deposit every month - and if you miss a month you drop to a lower rate. Always good to have something to keep you motivated!
Or you can open a special Christmas savings account. These accounts are generally only for a specified time and you can't get your money out until a specific date. Yorkshire Building Society, for example, has in the past opened its Christmas savings accounts about 13 to 14 months before the target Christmas.
The interest rate last year was 3.5 per cent gross so £100 a month was worth £1,218 after tax at maturity. Funds are available for withdrawal from the 1st of December.
And finally ...
If you're looking for a bit more advice or guidance on how to save for Christmas then take a look at the Office of Fair Trading's 'Save Xmas' brocure - click HERE. This puts all the options available into an at-a-glance table to make it easier to compare the pros and cons.