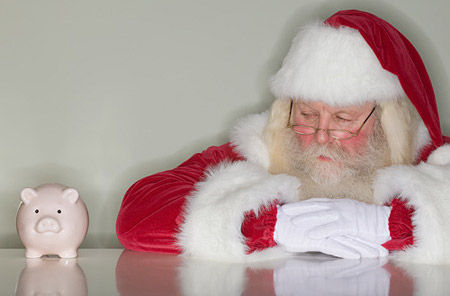 I keep seeing all those adverts for things like Park Christmas, and every time I open a newspaper there's an article about the come-back of Christmas savings accounts. It seems to be the big thing, for next Christmas at any rate. So worth taking a look!
First though, you need to decide if this is the right thing for you.
The main benefit is that you can't access the money until just before Christmas so won't be tempted to dip in during the year.
The main drawback is that you can't access the money until just before Christmas so you won't be able to dip in to buy items during those massive half price sales, or pick up bargains in the summer.
That's a huge sticking point for me but I also know I have very little willpower. When it comes to say, a special outing in the Summer holidays I may very well be tempted to take money out of an ordinary savings account. When it comes to bills to pay well, it is no contest. I'd use the Christmas savings of course, as would anyone.
On the other hand, I do so like to pick up the bargains I see posted here on PlayPennies when they come up during the year. My son always writes his Christmas list in August, and he always sticks to it! So I am able to save money this way.
It is a pickle of a doozy and no mistake, to paraphrase Ned Flanders! The only way to decide is to really look at all my options.
Savings Accounts
You can open a special Christmas savings account. These accounts are generally only for a specified time and you can't get your money out until a specific date. Yorkshire Building Society, for example, says that it will be opening its Christmas 2011 accounts from next month. Here's what you might have got if you'd used one of these for 2010's Christmas (courtesy of the Daily Mail).
The interest rate was 3.5 per cent gross so £100 a month was worth £1,218 after tax at maturity. Funds are available for withdrawal from the 1st of December.
Here's a fantastic resource, and of course it is one I found right at the end of my research for this post. Yes, I had already painstakingly found every possible source of Christmas savings schemes from bank accounts to my milkman when I came across this site listing them all in one handy place. It is a comparison chart compiled by Consumer Direct and the Office of Fair Trading - A Quick Guide To Paying For Christmas.
Clubs
These use savings cards or stamps that you buy each week. They don't pay tend to pay interest but are often far more convenient and useful for people who just want to put aside a small amount each month - typically from £2 to £10.
I do remember the collapse of Farepak though. Even though I didn't use it, the devastation left in its wake just before Christmas meant I didn't even have to look up the name. Although Farepak went bust in 2006, I still remembered it. So, what I'd want to know is, how safe would my money be in one of these schemes? First, read the Terms and Conditions. What happens to your money should the firm collapse should be clearly spelt out there.
Helpfully there's now the Christmas Prepayment Association (CPA), an independent body set up in the wake of Farepak that guarantees clubs, which in turn must adhere to a code of practice. The CPA keeps the funds in a trust, thus offering protection for savers' money. There are only three clubs in the CPA, but they do hold the majority of this particular market. They are Park Christmas Savings, Variety Christmas Savings Club, and the Post Office Christmas savings Club.
Stamps
There's a lot of crossover between the 'stamps' style of schemes, and the savings clubs mentioned above. The Post Office scheme falls into this grey area.
But the ones you'll be most familiar with are the ones run by your supermarket and other retailers. The terminology, ie 'buying stamps', is a tad old fashioned harking back to the days when you did do just that. And the scheme is pretty much the same today.
With Iceland, for example, you can get a Collect & Save Stamp card, and collect £1 stamps, which you then stick to the card. However, it isn't specifically for Christmas. You can redeem the card at any time, so you may be tempted to use it during the year. In addition, you've no protection if you lose the card.
Other supermarkets run schemes and it is worth looking into what your favourite one has to offer as you'll be restricted to using the card in that store. For example, Asda has a Christmas Savings Card, which will take up to £144. Before Christmas (this year it was on November 22nd) you'll get a bonus based on how much is on the card. "If you have the full amount of £144 then you'll get a £6 bonus.  A balance of £49 to £96 gets you a £1 bonus, and a balance of £97 to £143 gets you £3."
This is I feel just the tip of the iceberg! What are the rest of you planning to do, or what have you done? Has anyone tried the hamper scheme from their milkman? Or used one of the savings clubs? What did you like or didn't like about it?