We were sent a Snuggle Suit from Quack Quack Moo a few months back and we've been trailing it for a while now.
The Snuggle Suit is essentially a full body babygrow, available in three sizes for 12 months to 3 years. It is really beautifully made. The material is lovely and thick and I venture warm - I'll tell you more about that in a bit.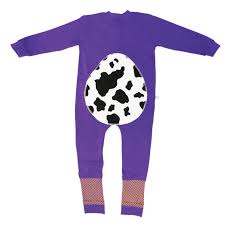 It has a zip front with a flat seam which makes it soft to lie on, and it doesn't leave pressure marks from being slept on.
On the bum and the knees there's a cute cow print patch, which is supposed to help provide extra leak protection for night time, and the padded knees are lovely for crawling around. It's not massively padded, but the padding is still there.
One of my favourite things about this onesie is that there are two options for the feet - you can roll up the legs and have open feet, or you can turn them down and over themselves so the toes are completely covered.
The feet also have non-slip grippy 'feet' which are super useful too. It helps prevents slips when the feet are covered.
When we just received the Snuggle Suit, we were on our way camping for the week, and I took it along, largely because I was worried that my daughter would be cold since she kicks off any and all forms of blankets.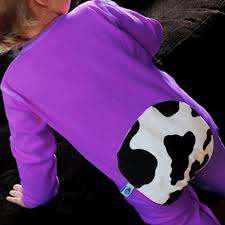 I was really very pleased with the Quack Quack Moo Snuggle Suit's performance. Because we were camping outdoors I actually put it on over my then 15 month old's regular pyjamas, and there was still plenty of room.  I checked her feet and body several times during the night to make sure she was warm enough, and she did seem to be.
We've also washed the Snuggle Suit a number of times and it's kept its shape and its softness. It's really just all round lovely.
The Good
I can't sing the praises of this Snuggle Suit enough. It is really nicely made, for a start. The material is soft and, well... snuggly.
It  is light enough for evening wear, but also warm enough to use outdoors - probably not in the
The flip over feet are just brilliant. My daughter tends to run around with her feet open and then when she's in bed, and ready for sleep I flip it over so that she has cosy toes even though she's not covered by blankets.
The rubbery bits on the feet are really good non-slip too, we've never once had her slip on smooth floor or anything.
These wash well, dry easily and haven't shrunk or stretched and in fact don't look in any way used at all.  We love 'em
The Bad
There's nothing bad here folks. At first I baulked a little at the cost, but when I think about what other toddler clothes go for, these can be rolled up to make them last more than one season, it can be worn in every season an as pyjamas or as lazy at home clothes, but it's also definitely cute enough to be worn out and about, so you'll definitely get your wear out of them.
The Verdict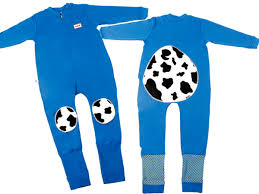 I think I've given a verdict numerous times already. The Snuggle Suit is gorgeous quality and has multiple wear options. It is super cute, comfortable and decidedly cute. Available in blue or purple, it's a gorgeous Christmas gift, new baby gift, or, quite frankly, buy it yourself. Baby and you will love it.