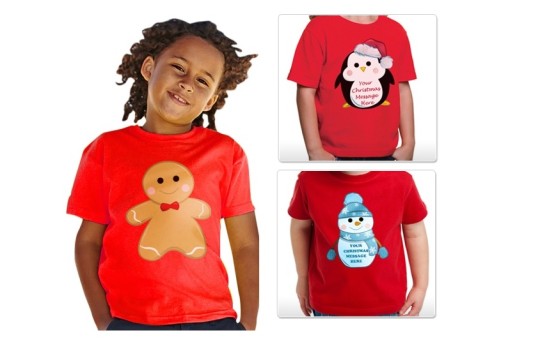 Your Design has a range of Christmas T-shirts for kids (and adults, but we think these are cute for kids especially!). They're £10 but use the code below to get them reduced to £4. Delivery is £2.95
Click here for a cute personalised Christmas t-shirt from Your Design*
Discount: £6 off
Discount Code: SANTA4
Personalising the t-shirts from Your Design is pretty easy. Literally just follow the prompts on the website and you're on your way.
Click the + button to add your text, you can also change the font and colour if you wish.
These T-shirts are 100% cotton and assuming they're the same quality as others we've had from Your Design, they're pretty great.
Styles to choose from include the Gingerbread Man, Snowman and Penguin and they're available in all sizes from small to xx-large.