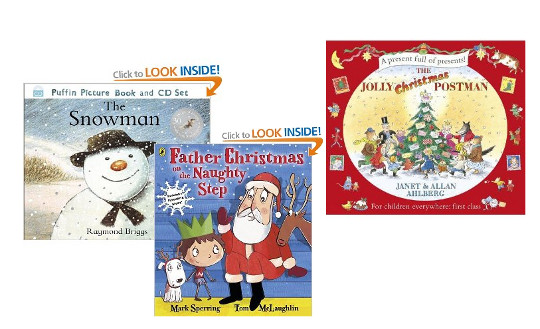 It's Christmas time, and what goes better with mistletoe and wine than snuggling on the sofa with your little one, reading a Christmas story or three? If you're looking for something to get you all in the mood, here are three books from Penguin publishers to help you get in the spirit of things.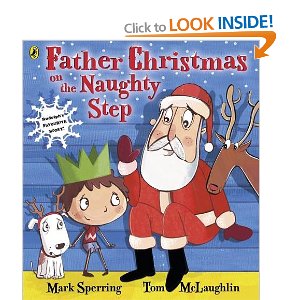 First up is Father Christmas on the Naughty Step*, by Mark Sperring (£6.99). This is a paperback, easy to read story. It has bold, bright and colourful illustrations and definitely appeals to children.  The story is about a boy called Sam who ends up on the naughty step on Christmas eve, for sins undescribed. He's not there long, however, before he is joined by Captain Buckleboots - a character that features in one of the other books from that series and I assume is his imaginary friend. They're only there for a moment when down the stairs comes Santa in a flurry of snow. He's on the naughty step for unlawful playing with a present belonging to someone else. Sam comes up with the resolution to Santa's problems and tells him how he can redeem himself, which Santa does and of course, it's all a happy ending.
It's sweet and good and I'm sure many kids will be able to relate to it, but we don't use the Naughty Step as a parenting tool, so it was pretty lost on my toddler. If you do, however, I'm pretty sure they'll get the point of the story. And in the end, everyone can be happy that Christmas turned out okay.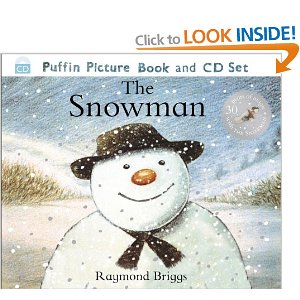 The Snowman Book and CD Set* (£7.99) is a well known and well loved story. James builds a huge snowman in the garden, and in the middle of the night, looking out the window he sees the snowman has come to life. They go on an adventure together and in the morning, the snowman has melted, but the memory - and the evidence of their adventure - lives on.
It's a great adventure and it is gorgeously illustrated. This 30th anniversary edition also comes with a CD with three tracks: A dramatic retelling of the story, a song, "Walking in the Air" by Peter Auty, and a Read-along version so little ones can follow along with the track.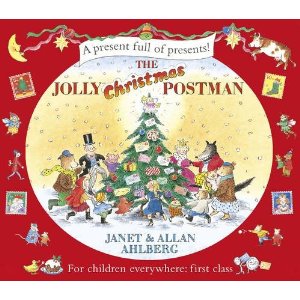 My favourite of the books we were sent is a brilliant book. It is interactive and a present in and of itself, beyond just being a book. The Jolly Christmas Postman* (£12.99) by Janet and Allan Ahlberg. I've never heard of the Jolly Postman before, so this book was a whole new experience for me. The story follows the Jolly Postman on his rounds on Christmas Eve. Every few pages, the page is actually an envelope and inside the envelope is something relevant to the story. The first envelope contains a post card for the Three Bears (think Goldilocks). Seeing that I thought each envelope will contain a post card, but not so. Red Riding Hood's envelope contains a game, Humpty Dumpty's a puzzle, the Gingerbread boy's contains a mini story book, and the Wolf gets a wolf spotters guide in his. Finally, there's a gift for the Postman - a gorgeous peepshow (not the dodgy kind!) that really fascinated me. Overall, a really fun book and I look forward to opening it, maybe a few days before Christmas, and playing the games and reading the story and all that.
The Good
Classic stories - at least the last two
Great quality, would make good gifts, but would be excellent as parts of an advent calender, for example.
Standard prices for new books, I think.
The Jolly Christmas Postman is really innovative - although I'm told not entirely original, but I didn't know that.
The Bad
The Naughty Step story kind of didn't 'feel' nice. I don't want to think of Santa as a naughty or selfish character. It all ends well enough though.
They're Christmas books, so they'll probably only be relevant for that time of year, but I'm just listing that as a negative as I can't think of anything else. They're books - where can you go wrong?!
The Verdict
I've had these books on my desk since October, and every time I've seen them or looked at them, I've had a little thrill of Christmas run through me.  My baby is three and is really 'getting' Christmas now, and the things we do now are the beginnings of traditions that will continue for years and make the memories of her childhood, and that's pretty awesome. Snuggled on the sofa with a glass of mulled wine, a book, and my beautiful girls... what could be better?