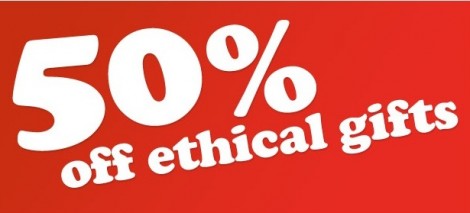 The Oxfam sale is currently on, offering up to 50% off on a wide variety of gifts and Christmassy items. While it is a bit too late to stock up on pressies, this is a great opportunity to get all your wrapping accessories for next year and some lovely ethical presents for the birthday party run.
Oxfam's sale has 50% off their ethical gifts selection which includes games, wrapping paper, children's gifts, Christmas cards and calendars and diaries. The latter are ace to nab now as they are right down in price, don't need to be under the tree on Saturday, and will be very helpful in the new year.
They also have a deal running with Pizza Express where you can get £5 off when you spend £5 or more at Oxfam, so you win on every level.
I rather like the calendar and diary range, they have some really funky designs as well as some simple and elegant variations too. So pop on over to Oxfam, nab some goodies, and make a difference at the same time!
Thanks to dkillusion at HUKD!