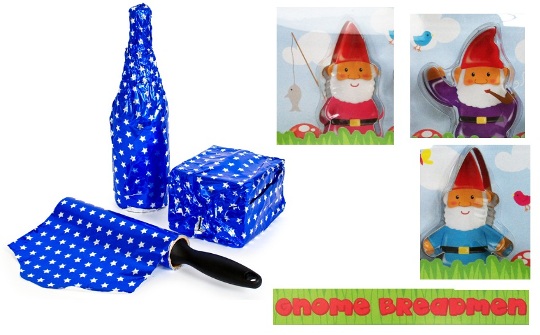 So, if you happen to be running a bit behind on your Christmas shopping and in dire need of Christmas gifts, then here are some excellent ideas for you from The Monster Factory. I was sent the Man Wrap and the Gnome Breadmen to review and this is what I thought…
The first items I reviewed were the Gnome Breadmen. The packaging reads… "The humble garden gnome is back!" And I add, mentally… this time you can eat them. The pack contains three gnome cookie cutters, a recipe, and some pictures that will come in handy come time to ice them.
I whipped up a batch of chocolate gingerbread dough and used these Gnome Breadmen to make some cute little cookies. They cut brilliantly, clean easily (not too many fiddly and poky bits to wash) and store away nicely in their packaging when you are done. These cost £6.99, are dead cute and brilliant, and aren't just for Christmas.
Next up was the Man Wrap. This is a roll of wrapping paper on a handle so that men can wrap their presents easily. It is a bit sexist but seeing as most of the men I know are pants at wrapping Christmas presents, this isn't too far off the mark.
My husband wrapped two boxes of homemade gingerbread for me. He had trouble getting the sticker off the paper to start. The paper itself is actually sparkly tinfoil. A sexier version than the one you find in your kitchen, but still tinfoil. Clever.
He then whipped it around the boxes. It was too narrow so he had to wrap it one way, and then the other. This was a point against it really, because you will have to use a lot more than standard wrapping paper to get one gift wrapped.
However, once you have whipped the Man Wrap around the gift you just press it to seal it. No sticky tape needed. Wow. What a pleasure. That alone makes this awesome. It costs £5.99 which is expensive. While the idea is great and the no sticky tape feature just brilliant, my husband found it as fiddly as standard paper (he said it was more difficult as it crinkled while he manhandled it) and I think the price is high. A fabulous novelty, a clever idea, but the paper needs to be wider and the price tighter.