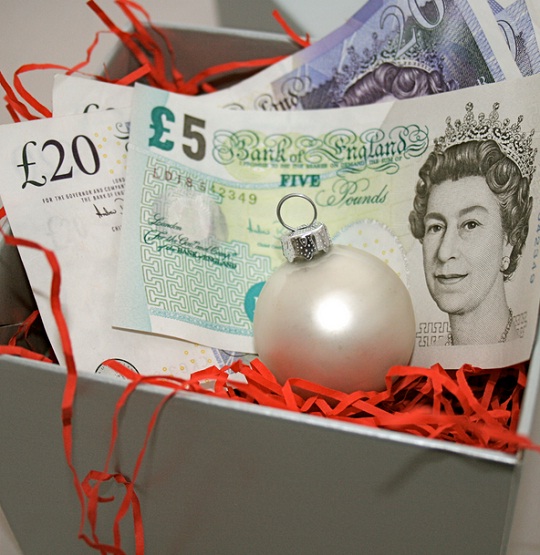 Spend, spend, spend. It is the season t'be completely broke come January. Christmas places enormous pressures on your wallet. It can be hard to juggle everything, and often common sense goes out the window as we get caught up in the idea that Christmas should be perfect in every way.
One of the best ways to save yourself a ton of cash this Yuletide season is, of course, to keep up-to-date with all the fabby deals we post here on PlayPennies. It saves me a fortune every year.
There's lots of other ways to save cash too. Start planning early, work out a budget and stick to it, go with home made decorations and cards instead of buying them. Make sure you cover the bills that have to be paid first, before you start spending. That sort of thing.
Most important of all though, make sure that Christmas doesn't hit you financially in ways that are completely avoidable and unnecessary. Here we put forward our top five money traps you can avoid at Christmas. Maybe you've got your own too - let us know in the comments at the bottom if we've missed anything!
1. Know your consumer rights
This is important. When can you get a refund? When can they refuse? Getting this wrong could cost you a lot of cash. Around Christmas you're doing a lot of spending, at a time when every penny counts. Don't just think you know your consumer rights, make sure you do.
If you buy in store, they are not obliged to take something back just because it is the wrong size, or you don't like it. Before you hand over your cash, make sure you know what their returns policy is. This isn't the case when buying online. Here you have a seven day window to return items for any reason at all. But, do read the terms and conditions. I was caught out buying a dress or a wedding when I found out that in the T&Cs it would take three weeks for the refund to end up in my account.
If an item is faulty you don't need the reciept to return it, just proof of purchase. So your credit or debit card records could do, for example.
2. Delivery failure
Read contracts and delivery terms carefully when you order online. If you buy a present through a website, and it doesn't arrive before Christmas (even if the standard delivery time meant it should have arrived), you'll only get a refund if it specified a pre-Christmas delivery.
3. Mismanaging credit or reward cards
If you do a lot of shopping with one retailer, such as a department store, then you can rack up quite a few reward points with a store card. However, only do this if you know you can hold yourself back from spending more on the card than you have the cash to pay at the end of that month. Store cards have some of the highest interest rates on the market, and you may not be able to use reward points if you've not repaid the balance.
There are '0% on purchases' credit cards available, which seem quite attractive. With one of these you could spread the cost of Christmas out over 16 months. But consider whether you want to be paying off Christmas or that long. And also, what will you do when you get to the following Christmas and haven't paid this one off? Don't get carried away by the credit limit, only use the card for purchases (otherwise the interest rate will kick in), and make a note of exactly when it ends so you're not caught out.
4. Payday loans
So you're caught short, don't have the credit rating for a 0% credit card, and start to find those adverts for Wonga.com and so forth rather attractive. Don't. Step away from the internet now.
This might be one christmas where perhaps the presents aren't as many, or the food isn't piled as high, but in the long term that won't matter so much. Payday loans on the other hand could blight you for some time to come. There's been lots in the news lately about how they have an adverse effect on your credit rating. Plus, you may be able to pay it back within weeks, but that just takes a chunk out of your next payday leaving you trapped in a poverty cycle for the next few months. Finally, these loans can have a 2,000% interest rate on them. Do you really want to be paying that?
5. Unauthorised overdraft fees
When I asked our PlayPennies parents this was top of everyone's 'to avoid' list. The biggest money black hole sucking our wallets dry at Christmas time are the fees that banks charge for going over our limits.
It is all very easy to say that you shouldn't spend money you don't have. But it is just so easy to lose track of things when you're rushing about, juggling childcare, work, shopping, presents, putting up decorations, getting the house sorted for guests and so forth.
Gerry and Roger discovered that Christmas last year cost them nearly £160 in bank fees for this reason. A transaction on the debit card for their joint account wasn't put through until a week later. Having forgotten about it, a trip to the supermarket put them over their limit. Something they were blissfully unaware of at the time, until after Christmas when things had quietened down. Factoring in charges for the overdraft, for direct debits that were refused and interest, the whole thing cost them more than they had spent on presents for their three children.