EDIT : GLITCH ALERT! SEE BELOW! Minecraft, Frozen and loads more HALF PRICE Toys @ The Brilliant Gift Shop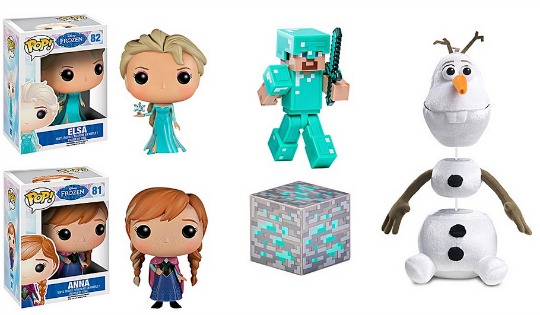 The Brilliant Gift Shop online have their big sale on and have just made further reductions. That didn't sound very unusual until I looked at some of the things they had on offer. I was expecting lots of santas and snowmen and things  - and instead saw some fab half price toys like Minecraft, Frozen and Lego Friends sets all at half price!
To make it even better if it's your first order you get 10% off with the code CQHC5.
There are nearly 700 items in the toy sale, and I only looked through the first couple of pages and found these: The Frozen Pull Apart Talking Olaf* is half price at just £10, Minecraft Steve With Diamond Armour* is also half price at £5. There are some Lego Sets in the sale too, and although these have big reductions the half price sets are showing as out of stock right now.
Some items seem to have much more than 50% off, and there are loads of great characters and brands too. There's Disney Princess, Wooly & Tig, Fireman Sam, Mickey Mouse, Fisher Price, Little Tikes and lots more.
I really like the POP! Vinyl Frozen Figures - Elsa and Anna are both half price too, at £6 each.
If you can bear to look at toys again after the Christmas shopping stint, then there are some really good buys here. After all, even though Christmas has gone Birthdays are all year round... ;)
-------------------------------------------------------------------------------------------------------------------------------------------------
EDIT: GLITCH ALERT! ADD 2 SALE ITEMS THAT WERE IN THE 2 FOR £15 PROMOTION AND YOU GET BOTH DISCOUNTS TOGETHER.
How it works is that an extra £5 gets taken off for the '2 for £15' discount! Here's the full list - all tested and working:
Thanks to melissa28 @hukd!