What child – and if they were honest, what grown man – doesn't love Lego? My husband has been collecting Lego 'for the kids' since we first met, and he has had our daughter building Battleships and what not with him since she was 18 months old! It's one of their favourite bedtime activities! I also don't think we've had a Christmas that hasn't seen Lego of some description or another under the tree for a good few years now.
When the Lego Ninjago Epic Dragon Battle* set was delivered to PlayPennies HQ, there was just about a fist fight over who got to take it home, and Tamsin was the winner (she has deceptively strong biceps!). As the sorry runner up, I get to tell you all about it though!
Here are Tamsin's thoughts: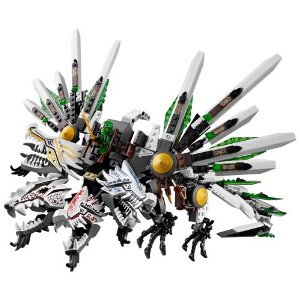 "This has to be one of the most impressive Lego sets I have ever used or seen. This gigantic box comes packed with so much stuff that the hefty and eye watering price tag almost seems reasonable."
Of course now I'm worried, so I run off to check the price – yes, at £89.99 it certainly is hefty, but it's not the highest we've seen Lego go for. Not by a long shot.
"Seriously," Tamsin reiterated, "if I was a kid who got this I would faint with delight."
So is this worth getting as the Main Christmas Gift?
The Ninjago set comes with no seven minifigures that include Sensei Wu and Lloyd zx. Now neither Tamsin's family or mine actually read or watch Ninjago so we have no idea who these characters are but Tam reckons that doesn't matter at all.
The set is suitable for ages 8-14, but as Tam's six year old proves, with some guidance Lego has no upper or lower limits. It seems the Ninjago is also a great way to kill a few hours.
"It took us a while to build this set from scratch as my daughter is 6 and a bit below the age group, and I am a bit slow when it comes to 3D builds."
They got there in the end, and once it is built this is one cool toy. There's a tower that lets you build a 'snake venom drop', which Tamsin thought was awesome.
The set includes a tower which lets you build a snake venom drop and the dragon can shoot venom balls out of its mouth. "We never hit anything with them, but they still rocked and were loads of fun," said Tamsin.
There are other options too. For example you can build a rising snake that sort of scuffles along the floor like a real snake, cobra style, and you can balance an evil ninja on the back to control the snake, should your play so require, which our fearsome tester's clearly did: "It's so cool - the mouth actually opens and closes (if you build it properly) to snag unsuspecting ninjas. Oh this entertained me for hours." Love it.
The four headed dragon was apparently insanely tough to build and make but looked incredibly impressive when it was done.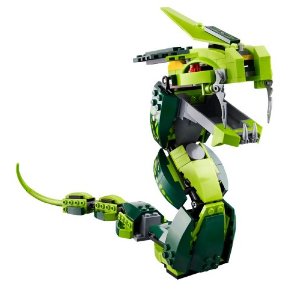 The box itself is packed to the brim with packets of Lego that are labelled according to the build instructions to make your life easier. There's lots of plastic but the instructions, which come in a very thick book are easy to follow.
It all sounds great, but I wondered if Tamsin would have bought this herself with her own hard earned money?
"I wouldn't have if I hadn't done this review if I am honest. I would have just thought it was over priced brand stuff. Now I feel differently. It is a lot of cash to spend, sure, but it will last forever, is compatible with other sets, is fun to build AND play with instead of JUST build, and there is A LOT OF IT!"
Tamsin thought this was incredible value for money, looking at what you get, and they loved every minute of building that went into it. She would recommend, however, that you get a special Lego box to store it in as there are a lot of fiddly pieces to contend with.
The Good
Amazing set, value for money and it'll keep little Lego fans busy for hours
Intricate set with fantastic build options and instructions
Comes with loads of accessories, including Lloyd ZX, Jay ZX, Sensei Wu, Lord Garmadon, Acidicus, Skalidor and Chokun. The set features 4-headed Ultra Dragon, The Great Devourer, snake prison, Hypnobrai fang blade with blue anti-venom capsule, 4 golden weapons and 7 regular weapons.
It arrives well packaged in small parcels in one humongous box
The Bad
Totally subjectively, this could be considered really expensive, or really not
There are loads of small bits
There's a lot of plastic in the packaging
The Verdict
Well, I wanted the Lego Set to keep the husband and toddler busy for some hours, but it seems Tamsin really, really loved it.
"The actual Lego construction here is astonishingly cool and anyone who likes dragons will thoroughly appreciate this set. Actually, anyone who likes ninjas will love it. And anyone, like me, who likes ninjas AND dragons will be in seventh heaven."