Kidizoom Video Camera £35 @ Amazon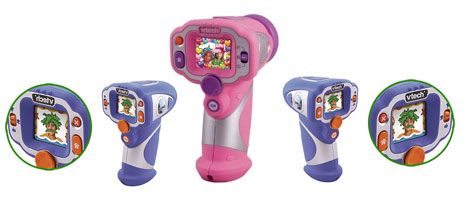 Aaaaaaand ACTION! Amazon currently have a rather nice deal on this Kidizoom Video Camera.
Yesterday I wrote about the Kidizoom camera, but if your little one would rather join the ranks of the film directing elite, such as Scorcese, Tarantino and the Coen brothers (although with a little less gore than some of those!), then this Kidizoom Video Camera will suit them more.
It's a bit like gambling at the Casino (a Scorcese film - just give me a job on Film Night!) writing Amazon deals, such is their notoriety for messing around with their prices - the current selling price for the Kidizoom Video Camera is £35 instead of £59.99.
It would be ideal for one of those bigger value Christmas pressies; it's certainly not a stocking-filler item - it also comes in BLUE.
But having read the reviews your budding film director is destined for lots of fun with it...
"My 7 year old got a bit of money for her birthday a few months ago...she's taken videos of everything, and gives a running commentary of every mundane family activity but the picture isn't bad, the effects are fun and it's very easy to use."
Here's the brief technical spec':
Record videos, take photos and edit your creations
Includes RV and PC connections
Memory expandable with an SD card (sold separately
4x digital zoom and 2.0 mega pixel photos
Face-tracking technology allows you to add moving animations
Become a director and add movie-style openings, funny stamps and borders to your movies
4 built-in games let you put yourself in the game
Features a 1.8" colour TFT screen and 256MB internal memory
Fingers crossed Amazon leave the price of this Kidizoom Video Camera alone long enough for you to grab one of these!
Thanks to lotto over at HUKD