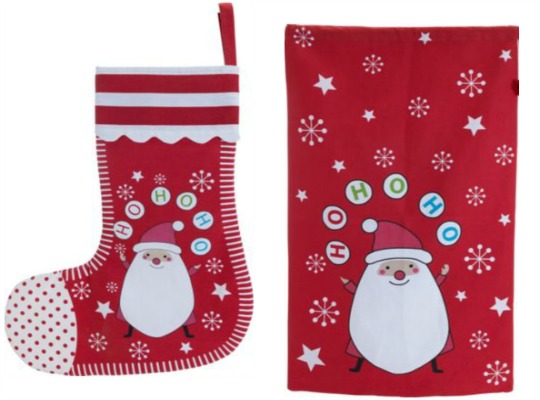 You might think I am MAD  blogging about Christmas decorations when the big day is one week away. That's where you are wrong. Take a look around at this years decorations, are they looking like they are on there way out? Just think of it this way, you store the tree and all the rest in that cupboard under the stairs anyway for the whole year, so you have the space. You could wait until next Christmas an replenish EVERYTHING or you could get it all now and save a flaming fortune! Items start at £2.99 and there's lots of bargains to be had!
Let's start with stockings and santa sacks, these don't only look great but they are MEGA handy for carting presents from Granny's to Uncle Simons or just for sticking all the kids little gifts in. Grab this Santa's Christmas Sack*for just £2.99, reduced from £9.99! Or for the Stocking version, click here*.
Christmas lights are probably the thing we replace the most. Take it from me LED ones are the way to go, but tend to be expensive...unless you buy them now from Argos. These 80 LED Christmas Lights were £24.99 and now only £7.49. They are available in Warm White*, Bright White*, Mulitcoloured* and Blue*.
There really is A LOT of bargains, including trees, decorations, crackers and tableware. Some are out of stock for delivery, but you can reserve them to collect for FREE from your local store.