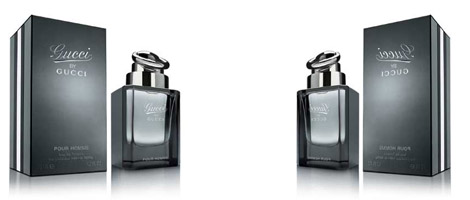 Gucci by Gucci Pour Homme has to be one of my top fragrances for men this year. It's got a really woody and earthy base note that tantalises the back of your nose, and then it's followed by these light and almost sweet notes of Jasmine and nutmeg.
I have sprayed this onto my husband, my father and my friend's husband and found that it does tend to vary with the person, but not as much as with other scents. Instead of mutating completely and becoming another smell entirely, it holds the base note steady but the top notes tend to shift between really sweet or faintly tart.
The bottle is also awesome. It's this see-through black glass in a solid square design with this hefty pull-ring style top. Actually, it took me a few minutes to figure out how to open it. I felt a bit stupid when I realised you had to pull the ring.
This really would make a fantastic Christmas present for all but the fussiest of men. I wouldn't recommend buying a male fragrance for a fussy man ever, unless he is with you, that's too risky. However, for men who are open to new smells, this is a strong contender for male scent of the year.
Where to buy: Gucci by Gucci Pour Homme is on sale at the The Perfume Shop. It's down to £26.55 for a 30ml bottle, £35.55 for a 50ml bottle plus shower gel and after shave balm, and £35.55 for 50ml EDT. That's a nice price on the 30ml bottle if you don't want to risk a big 50ml one, although the bundle for £35 is pretty awesome. This is a fantastic scent that will make you want to sniff your man for hours.