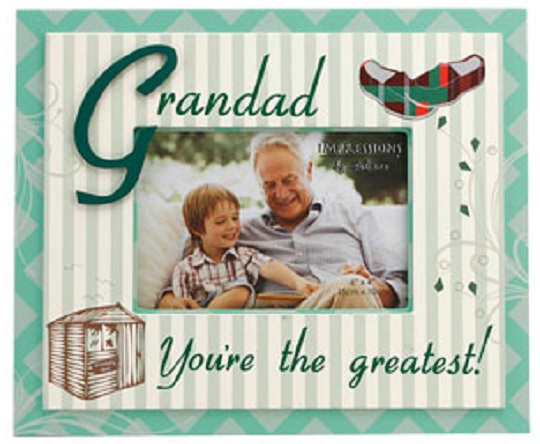 The perfect Christmas gift for a proud grandad! This 'Grandad you're the best' photo frame has been reduced from £8.95 to just £6.71 at A1 Gifts. You save a very handy £2.24! Delivery of items over £50 is free so why not pop onto the site and do all your Christmas shopping and get them delivered for free. For purchases under £50, delivery is charged at £2.99 via Royal Mail and should take between two and four days.
This gorgeous 6x4" 'Grandad you're the best' photo frame will take pride of place in on your child's Grandad's house or office and will remind him of good times with your child/children. The frame has 2 layers – the outer layer has a dark and light green zig zagged finish while the inside layer has a green and white striped finish. Featured around the frame are some great Grandad designs – a pair of slippers and Grandad's shed.
The frame has a stand for display on flat surfaces and a hook for hanging on a wall. Just pop in a photo of your kids and your father/father in law into the frame and watch his face melt when he opens it on Christmas morning.