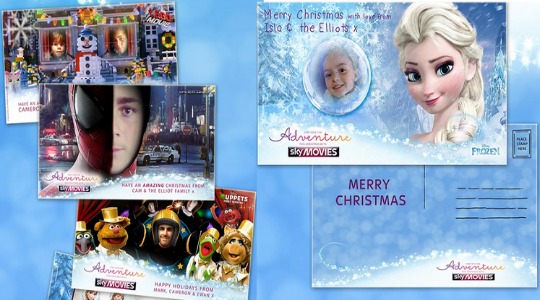 This looks like such a fun idea and it's FREE! Sky Movies are giving away free movie themed e-cards and 3 free Christmas postcards per household, but the best thing is that you personalise them yourself. You put your own photo into the movie picture along with a personal greeting and then you get the option to print, download, or post the card on facebook or twitter.
You can also claim 3 free cards that you have created to be mailed to you - that's handy for giving to anyone you know who's not on facebook or twitter or if you can't print them out yourself.
You can choose from 22 different designs based on four different films - Frozen, Spiderman, The Lego Movie, or The Muppets. I'm sure the Frozen ones will be hugely popular, but I think my son would enjoy putting his face into Spiderman's mask - he would love giving those out to his school friends and it would save a lot of time. Better check the ink on our printer!