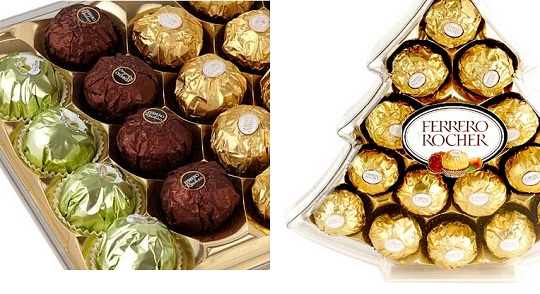 For some people, it isn't Christmas if there's no Ferrero Rocher. By some people, I mean my family. And by not Christmas I mean world ending, cancel all presents, put the turkey back in the freezer, Christmas is cancelled. That's how much they love the stuff.
But not me. I actually am not a fan of the chocolate, and don't really like the taste. A bit bizarre to review Ferrero Rocher perhaps, but then I'm the odd one out in a household where my other half, and both step children love these little foil wrapped treats.
So for them it was like Christmas come early. We received two packs to try out, the Ferrero Rocher Christmas Tree, and the Ferrero Collection Limited Edition with Pistachio.
Both are billed as 'new', however I am 100% certain that I bought the Christmas tree version for my stepson's Christmas stocking last year. I remember spotting it on the shelves at the supermarket and thinking what a jolly good idea to give it that little Christmas touch.
That's one thing that makes Ferrero Rocher stand out is the hard plastic container used, instead of a cardboard chocolate box. I wonder how environmentally friendly this is, but you can re-use the containers and I've done so many times. They make great display boxes for gifts for example, if you can get the Ferrero Rocher label off, or cover it up.
Ferrero Collection Limited Edition With Pistachio
The Ferrero Collection Limited Edition with Pistachio (£8.50 at Debenhams) three different flavours –  Ferrero Rocher, the darker chocolatey Ferrero Rond Noir and the creamy and light Ferrero Garden Pistachio.
You get 24 chocolates in the pack, eight of each kind. These little foil wrapped choccies look like miniature baubles all on their own. While the blurb on the website described the Pistachio chocs as creamy, I figured that was just marketing. Even though I hadn't intended to eat any myself, I had to try these.
I love pistachio, and wanted to see what the they tasted like. I'm still not a fan of the crunchy shell on these chocolates - which is what makes Ferrero Roche so yummy according to everyone else - but these are, well, creamy! And light.
We got them out after dinner one night, when friends were around. If you do the same you might want to give your guests a warning. My friend grabbed one of the green wrapped pistachio ones thinking it was a mint chocolate. The look on her face! Luckily, she did actually like it. Once she got over the surprise that is.
Ferrero Rocher Christmas Tree
I love this, it is just so cool. A Christmas Tree shaped box. The Ferrero Rocher Christmas Tree (£5.49 at Ocado) has 15 pieces of gold foil wrapped baubles of hazelnut in milk chocolate and nut croquante.
Anyway, my testers thought I was a bit nuts asking them to describe the taste as it's Ferrero Rocher and it tastes like ... Ferrero Rocher. Pushed for more, they told me that what they liked about them is the crunch, and the texture, and the flavour, which isn't too sweet so the sugar doesn't drown out the chocolate taste.
There's also another special Christmas box, in a sort of cone shape. I prefer the Christmas tree though. It is festive, without having to stick lots of holly or Santa Claus on the box. Nice, and classy. What you'd expect at the Ambassador's party (well I had to get ONE in).
And Finally ...
My overall verdict doesn't really matter. You either like Ferrero Rocher or you don't. If you do, or you know someone who does, then I'd definitely recommend the Ferrero Rocher Christmas Tree. I'd have given this ten out of ten if the pack had more than 15 pieces.  It is fun, festive, and fairly reasonably priced. And yummy.
Ferrero Rocher Christmas Tree: overall verdict 9/10
I have to say that the Ferrero Collection Limited Edition certainly went over well with everyone at the dinner party. Trying something different like these pistachio ones was a bit of fun too. But at £8.50 for 24? I just don't know that they're worth it. Maybe if I was more of a Ferrero Rocher fan!
Ferrero Collection Limited Edition with Pistachio: overall verdict 7/10