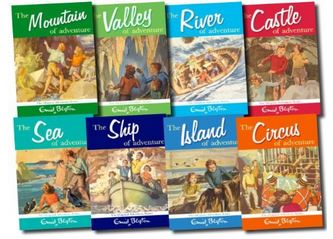 Wow! This took me back! I used to devour the Famous Five when I was growing up! The 8-book set is currently on offer at WHSmith for £6.99 a saving of £40.93, although it's £14.99 at Amazon.
One of the reviews on this mentioned that they are a 'nostalgic childhood classic' which they sure are for me! The forebear of murder mystery TV, woohoo.
In this collection there's Island of Adventure, Castle of Adventure, Valley of Adventure, Sea of Adventure, Mountain of Adventure, Ship of Adventure, Circus of Adventure and River of Adventure - so yeah. A lot of adventure.
This will get you through the long cold winter nights, for sure - Christmas gift full of happy memories.