The Enchanted Cookie Tree Review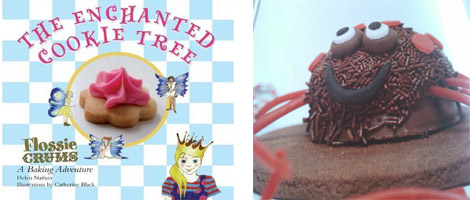 Helen Nathan is a leading baking expert and has just written a simply adorable book called The Enchanted Cookie Tree. The book follows the adventures of Flossie Crumbs as she creates gorgeous cookies for the fairies and their new baby princess.
The first half of the book covers the story of Flossie and her family as they meet up with the fairies and find out that the King and the Queen of fairies have just had a little baby. The fairies ask Flossie to create cookies for the enchanted tree as a part of the baby's welcoming ceremony.
Hidden on every page is a tiny fairy that children have to find. I love that. I have a real thing for books that hide items in the pages and encourage my daughter to explore the pictures. The little fairies are also truly cute, and sometimes really hard to find! My daughter really enjoyed that part of it.
THEN the book has an entire section dedicated to fantastical baking. Yes, you can create each and every one of the cookies from the story. They are laid out with simple and clear instructions, lovely pictures of the finished products, and a complete list of all the ingredients you need.
My personal favourites are the Geoffrey marshmallow spider biscuits (they are super easy to make and fabulously creepy), the mini footprint baby cakes (which would be a stunning pressie for a baby shower), and the various shaped cookies.
Baking with kids is a great way of spending time together, getting nice and messy, and generally having fun while eating scrummy food. I am a terrible cook but a great baker, and I found these recipes easy and almost foolproof. It's a stunning book and would make a brilliant Christmas present.