Doctor Who Return To Earth Wii Review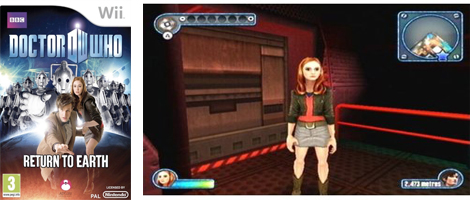 I admit it, I'm a total Doctor Who geek and I was very excited to get a copy of Doctor Who Return To Earth for the Wii. Sadly my excitement was very short lived. Unlike its cousin, Doctor Who Evacuation Earth for the Nintendo DS, this game is really not a winner.
I played it, my pet teen played it, my child played it, and we all struggled to enjoy it. For one thing there are these weird smiley things that you have to contend with around every corner. They don't fit into the Doctor mythos that I know of and frankly I find them a tad disturbing.
Then there's the fact that Amy has a sonic screwdriver too. When did that happen?
The dialogue between the characters is flat and tedious. It's a tragedy, especially when you consider that the DS version has had great reviews that praised its witty dialogue and eccentric humour. I tried to find it funny but I even my shallow tastes struggled.
The actual gameplay didn't make myself or the pet teen feel as if we'd been sucked into an awesome adventure alongside Amy and the Doctor, battling Cybermen in space and worrying about the people of Earth. Instead I found myself wondering if it was too soon for another cup of tea.
My child, however, did enjoy ambling around and exploring, and doing various tasks. She is very much more the target market than I am and so, perhaps, a better judge. Still, it could have been executed with a bit more flair and gusto.
Overall, I have to say that I was disappointed. I'd expected more from a rare game for this golden series, but the story was weak, the graphics damp, and the puzzles only mildly entertaining. I'd get the DS version instead.