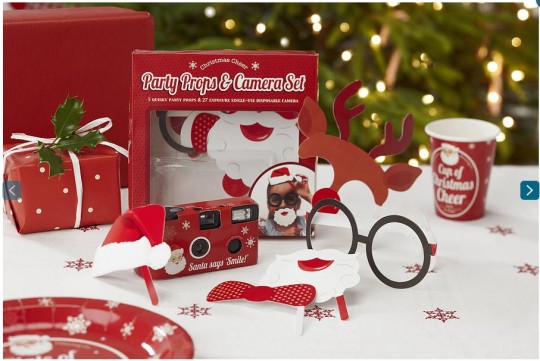 For a little bit of Christmas fun - whether as a stocking filler or a pre-Christmas event fun - Not On The High Street is selling a disposable camera and Christmas themed props set for £4.99. I'm not sure if this is available anywhere else, I can't find it, or if it has  a different 'full price', but with the code below there's 10% off, so you can grab it for £4.50 with free delivery.
Bring on some laughter and smiles with Not On The High Street*
Discount: 10%
Discount Code: ORDER13
While it might make sense to use your own camera, this disposable camera could still be a lot of fun for someone, and the props could make for a lot of laughter come Christmas morning.
The prop include reindeer antlers, santa beard and so on. In fact there are 5 quirky party props and a 35mm single-use disposable camera with 27 exposures and a flash.
Ideal to use as a stocking filler or to keep the kids entertained while the turkey is being carved.
Thanks to lyd123 at HUKD