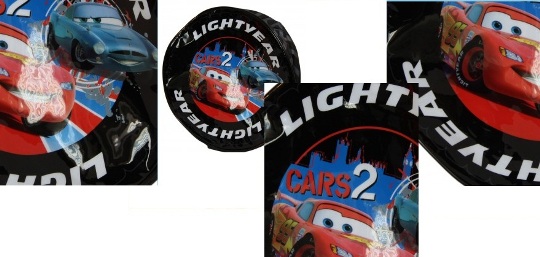 My daughter was recently invited to a birthday party by a…boy! Yes, I had to go out and find some kind of present for the young male persuasion and I had absolutely no clue what to get him. What do boys like? Pet worms?
Fortunately I have friends with male offspring so I fired off some emails. The message was clear – anything to do with cars or Cars (one being the vehicle and the other being the movie). So I went out and bought a Disney Cars 2 Tyre bag.
No, this isn't a bag for carrying real tyres, as funny as that may be, but rather a clever idea that boys love. In fact, the boy I gave this to utterly adored his and soon as many of his other presents as he could fit inside the bag where, in fact, inside.
The bag is made from the usual polyester nylon vibe with a bright Cars 2 image on the front that's really quite shiny. The zip zoots around the entire circumference of the bag which is, as you've probably gathered by now, shaped like a tyre.
Inside the bag there are no compartments or extras, you are just getting a bag with a Disney Cars 2 logo. The bag itself is well made, the stitching robust (although it will be worth checking in with the mum of aforementioned boy in a few months time) and the image taking up the entire front of the bag.
It is definitely good quality and would make a lovely school bag or gym bag for any kid crazy about cars or Cars.
The only down side is the price, I think. Paying nearly £8 for this without any extras is quite steep even though I know you are paying the Disney royalties. A good bag, a great present, a high price.