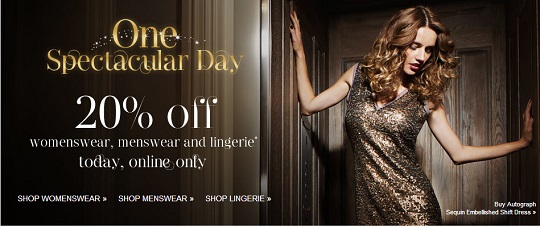 M&S is offering 20% off for one spectacular day only on menswear, womenswear and lingerie. This offer is only valid for today and it is only valid online so if you want to look as stunning as that lady in the photograph, get shopping now!
The M&S sale is hardly the stuff of dreams, but it is most definitely an awesome saving on some stunning items online. This would be a fantastic chance to get in some of the latest lines of clothing at sale prices, and sort out a whole bunch of your Christmas gifts at the same time. How utterly tingly! Delightful! Wonderful!
I hope that you've been having a very cost-effective and money saving and budget friendly Cyber weekend. Did you land any epic deals that we missed? Is everything piling up on your doormat, waiting for you to open it and see?