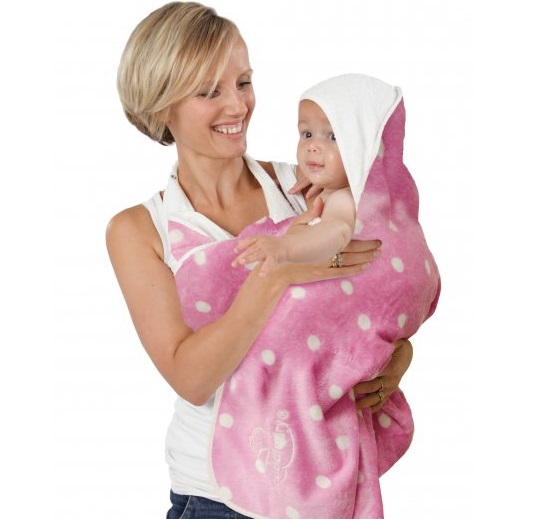 For a few years now, whenever I've gone to buy that special, new baby present, I've opted for a Cuddledry. Especially if there's a group of you involved in the purchase, as at £34.99 one of these isn't cheap.
What makes it the perfect present is that a Cuddledry is a luxury, a gorgeous and desirable item that mums and dads aren't going to buy themselves. Doting grandparents, good friends, aunts and uncles might though.
A Cuddledry is pretty much as the name implies. It is a baby towel designed to be worn like an apron. You scoop baby out of the bath, onto the towel and into your arms in as little time as possible. You then dry baby by cuddling them, and you're keeping them warm at the same time.
That's the idea. The thing is, how do I know if that's actually how it works in practice. These towels came out after my son had left the baby stage. I remember seeing them on the Dragon's Den and thinking, wow I would have loved one!
All the friends I've given one to have said they're great - but then they would wouldn't they? The only way to figure this one out was to try it myself, and when the latest Cuddledry in pink polka dot came in for review I grabbed the chance. Read on to find out how it did.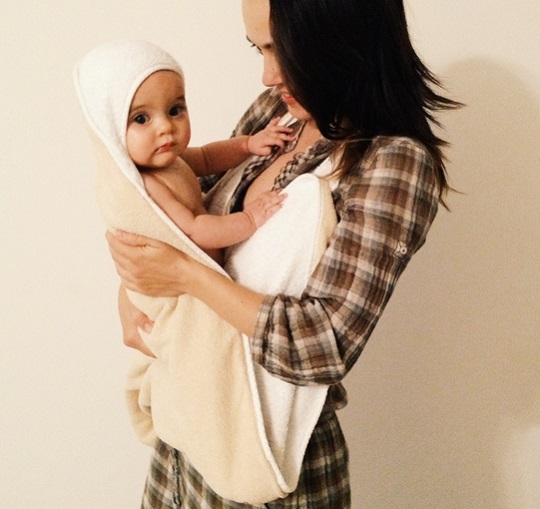 My personal favourite Cuddledry has been the oatmeal coloured one (I prefer to think of it has fawn) pictured above. A lovely soothing colour and handy if it is for a baby shower and the gender of the baby isn't known. There's also gingham (blue and pink), crystal, cow print, giraffe print, blue and pink towels.
However, I just love the pink polka dot Cuddledry, and I am not normally a pink person. It is a strong pink (not pastel and insipid), and the polka dots are just mad. The towel itself feels thick, soft and deep luxurious.
It comes in a clear carry case, which is nice. But I do rather miss the box and tissue wrapping that enclosed the first ever Cuddledry I bought. Made it seem like more of a luxury item.
However the case is useful for storing the towel and also for taking it out and about with you. Especially on holiday.
The towel is made of cotton and a natural, soft, bamboo fibre. The apron design keeps both hands free. In fact in use this was brilliant. When you are bathing a baby, it just means there's one less thing you have to worry about getting.
Plus it really did keep baby warm and dry, a huge plus at this time of the year. Although there's no draughts in the bathroom, and the heating is on, when you come out of the bath the air always feels cold. It is the same for babies.
It was a huge relief to find that the towel really was as amazing as everyone says. No, it isn't necessary, and yes it is a luxury. But if I was going to recommend the perfect gift for new parents, or if you're looking for a Christmas gift and don't want to laden the parents with yet more toys their baby is too young to enjoy yet, then this would be it, every time.
Pros: keeps hands free, a fabulous way to dry baby, keeps baby warm, a great idea for a gift
Cons: pricey for parents to buy
Overall verdict: 9 / 10 (or if rated purely as a gift, 10 / 10)