Craft Artist 2 Professional Review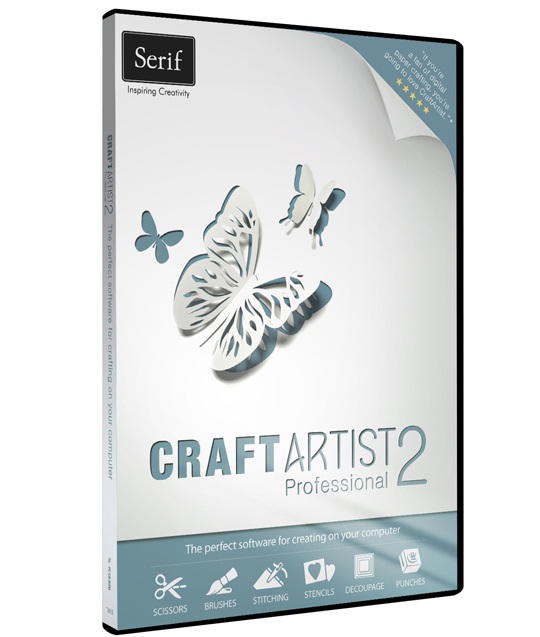 I like crafts. I like keeping memories, mementos, and keepsakes nicely together, well presented and preserved. Actually what I should say is I like the idea of doing all that. The reality is a pile of boxes and photos that I have collated piecemeal. So my son's first year at school is nicely collected together in a book of photos showing all his experiences throughout the year and things like school projects (so much better to keep a photo than trying to preserve all the crafts and pictures they do).
But nothing else. There's a partly started scrapbook I need to finish, a box of cards to keep but not put into order, and a folder full of odds and ends like tickets.
I also have stacks of materials and other items I come across and keep because they'd be fabulous in a craft project one day.
Serif's CraftArtist 2 Professional version is software that's designed for crafting on your computer. So it sounds like just the sort of help a busy, working mum (with the best intentions but no time) needs. Read on to find out more.
Serif's CraftArtist 2 Professional can be downloaded from the site for £24.99, or purchased on DVD.  The software contains 100 blank templates to choose from, including templates for cards, photobooks, scrapbooks and all types of party crafts. To use the software you just drag and drop items onto the page and then use the on-screen pointers for guidance.
Included free with the software is the Daydream digikit, which aims to get you crafting straightaway. The kit also contains a selection of customisable templates that are ready to personalise. Just choose a design, drag and drop your photos onto the page, add your own text, and share.
It seemed like a much better way for me to collate my stuff for something like, say, a photobook. I rather balked at the price a little bit though. It seemed a bit pricey but I rather hoped that the ease of use of the software would justify the cost.
That's my biggest problem with using software. I have zero tolerance for tinkering with it, and nothing puts me off more than having to spend time figuring out how to do something basic. In short, I just want software I can use, not stuff that I have to learn first.
CraftArtist 2 Professional is compatible with Windows 7/Vista/XP and is also certified for the upcoming release of Windows 8.
I really liked the templates, but more importantly, I liked how much it was possible to customise them. Also, and this is the clincher for someone who doesn't use this sort of design software, there are handy on-screen tips that pop up when you're doing something. So, instead of going through each tool, finding out what it does then trying to figure out how you might use it (and forgetting about it ten minutes later), you do something, and the software will suggest other sorts of things you might want to do and what to do that with.
I'm told by a friend who is a designer that the program uses similar layout techniques to desktop publishing programs. This means, I hope, that the skills I learn here will make it easier for me if I ever want to use another design program!
By using the different skill settings, even my seven year old son was able to have a go at a project.
All in I was impressed. Basically, I've been trying to do similar things using a number of free programs, and a hodge-podge of clipart sites, editing software, and photo resources. I'm beginning to realise that was a false economy. You get all these free things in this program, but what you're paying for is the fact that they're integrated into one package and you get a phenomenal amount of hand-holding. For novices, like me, that's really useful.
For the more professional or experienced user, you can also just start with a blank page and create from scratch. I haven't yet managed to get that far.
Pros: ease of use, large number of templates, range of user-friendly tools
Cons: I had a little trouble using drag and drop in some of the templates, but I'm not sure if that's a limitation of the software or my own skills. Also a little pricey I think if you don't do a lot of this sort of thing and are quite happy using Paint and other free resources.
Overall verdict: 9/10