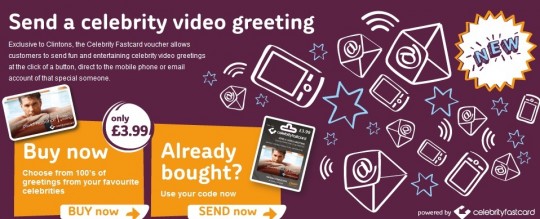 Have you ever wanted David Hasselhof to sing happy birthday to you? No? How about Teezy, The Saturdays, Alesha Dixon, Jay Sean, Ne-Yo, or Jerry Springer? Yeah. Now me, personally, I loved it when the David Hasselhof meme went about and ended up plastering no less than three office walls with the various jokes and funnies.
So, when I got the Clinton Cards Celebrity Video card to review I immediately chose David Hasselhof. I was going to send him as a birthday greeting but I found out that he does everything from ask people on a date to telling them to back off! Genius, pure genius.
I saw the David Hasselhof Christmas card and I immediately pressed Play to watch the preview. I laughed so hard I couldn't breathe. This is cheesy brilliance at its best. I immediately decided that this card was going to my brother who lives in South Africa and with whom I share a humorous love of The Hoff (and Knight Rider).
Getting started is easy, just follow the prompts and you'll soon have your card personalised and ready to go. Sadly South Africa was not included on the list so I had to rethink the Hasselhof Celebrity Video Card and decided to send him to a really close friend instead. I just knew she would cackle like mad at The Hoff wishing her a Hofftastic Christmas.
The process of ordering, making and getting the Celebrity Video Cards from Clinton Cards is easy. Simple, fun and easy. There isn't a huge range of slebs to choose from yet but you only really need The Hoff, right? All the cards cost £3.99 each and the range is impressive. I absolutely love this idea and will probably get this for a close friend. Expensive, yes, but fun, definitely.