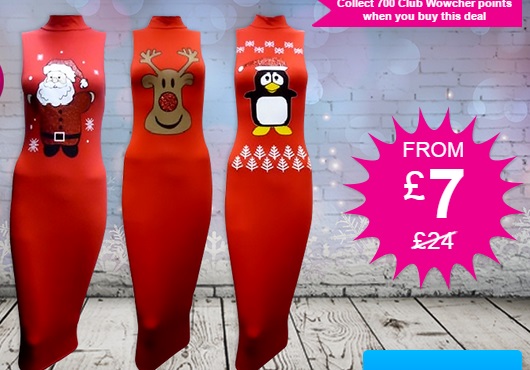 If Christmas jumpers aren't your thing, you may prefer the Christmas Midi Dress which is currently £7 at Wowcher. Add the £3.99 delivery fee and the dress is £10.99 delivered.
I've never really been into seasonal clothing myself, but I know they're really big this time of year among the rest of the world. I would be much more inclined to go for a dress than a jumper myself and think these are quite unique and different.
Available in sizes 8 - 10 or 12 - 14, you can choose up to two dresses from the 9 festive designs available.
These midi length dresses are sleeveless with a polo neck and make a great alternative to the Christmas jumper if that's not really your thing.
You buy the voucher now, but will need to redeem the dress by December 1st, and you'll need to allow up to 10 working days for delivery.