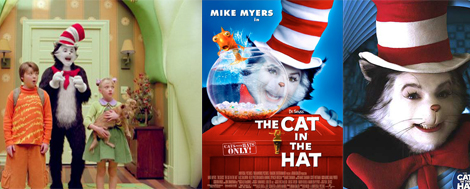 This is a childhood stalwart, a genius and brilliant book that enchanted me as a child and will hopefully enchant my own kids. This, however, is not the book. It's the DVD. I haven't seen the DVD of The Cat In The Hat and I'm not sure I want to, but it is down to only £2.95 including free delivery from Zavvi.
There is a little voice calling me and telling me that less than £3 for a DVD of the Cat In The Hat delivered is well worth the risk. I am ignoring that voice because the book was one of my childhood favourites and I don't want it ruined by bad Hollywood shenanigans.
Still, if this appeals to you and you don't necessarily have a love-affair with Dr Seuss, then why not grab this as a dead cheap Christmas stocking filler?
Thanks to millarcat at HUKD!