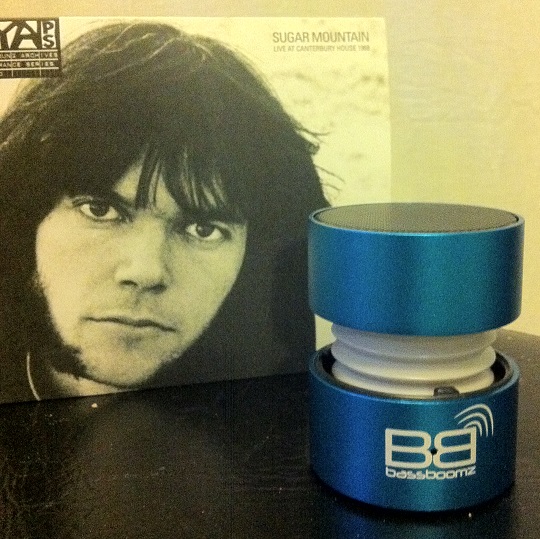 I haven't had any decent sounds for what feels like forever. Well, I have some fabulous earphones that cost an arm and a leg. And that's great. For me. The sound quality is fantastic. But at home the only thing I can hook my laptop or phone to is the TV. I have no idea how to connect it to the extremely complicated stereo system my other half has (it has a turntable for actual, old-fashioned vinyl and everything).
There was a time when portable CD players were the rage, and we all had little tinny portable speakers to plug them in to. Shouldn't there be something like that for iPods and iPhones?
Which is where the BassBoomz portable speakers* come in. From the shopping channel QVC, these speakers look really smart. Under the guise of making a good Christmas gift (well they would) I got a set in for review. Find out how I got on.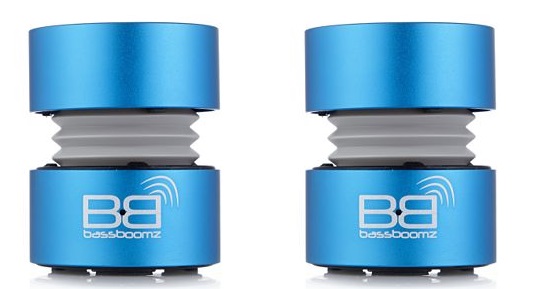 In the photo at the top of this review, you can see the BassBoomz portable speakers (£28.98) full open next to an ordinary CD (I mean ordinary in size, of course being Neil Young it is nothing but extraordinary). This gives you an idea of the size of the speakers - they're not big. And you can push them in to make them even smaller. The speakers will also play open or closed but I tested the speakers when they were open.
A USB charging cable, and a 3.5mm audio cable (fits any 3.5mm audio jack) are included in the box. The speakers charge over USB, and it took about 45 to 50 minutes. According to the box you can get five to six hours use at 70% between charges.
Although there is an audio jack, the most convenient way to hook this up to your smartphone or laptop is via Bluetooth. The instructions were clear enough, it wasn't difficult to make a connection. I was very frustrated to start with before I remembered I switch Bluetooth off on my devices (it is on by default, which means that anyone can connect up to your device when out and about).
On the back of the speakers are the line-in port, the charger port, and the on/off switch. On the front there's a little light that glows while the speakers are charging.
I was really impressed with the sound quality. These aren't the best speakers I have ever heard, but I would say they were the best portable speakers. Neil isn't known for his ability to pump out the bass, but Hurricane sounded pretty good. Movies sounded pretty good with the speakers too - we watched Star Trek: Into Darkness. And that has a lot of noise.
At just under £30, I was a bit concerned about the expense. If, like me, you've got really fabulous earphones, then it can be hard to adjust to a tinnier sound, so I think that if you're after portable speakers, it is worth spending the extra on these.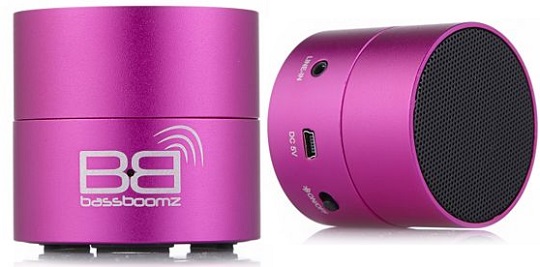 And finally, these are a really good looking set of portable speakers. I loved the brushed metallic, and the black mesh finish. There's a range of colours available too.
They would definitely make a great Christmas present for an older child, friend, or partner.
Pros: stylish, nifty design for extra portability, good sound, easy to use
Cons: not the cheapest speakers I've seen but worth it for the sound quality
Overall verdict: 9 / 10