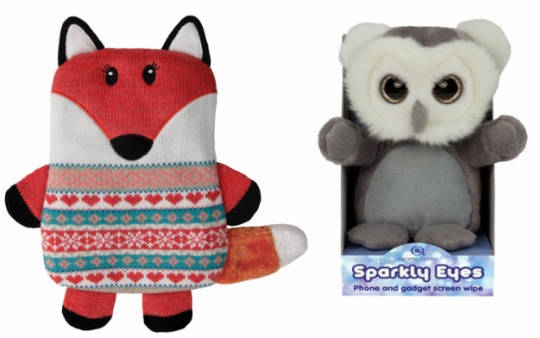 When I saw what Amazon have as their 'Deal of the Day' I didn't have a clue what Aroma Home was. Now I do and I plan on grabbing some Stocking Fillers. Aroma Home do products varying from Plush Screen Wipes to Hand Warmers. They make those gorgeous knitted microwavable Cuddle Hotties too. The ones you find in Gift Shops costing £££'s.
If you are looking for a Secret Santa gift, Stocking Fillers, or just something nice for a friend, then you really ought to check out the Aroma Home bargains on Amazon.
There are 21 Aroma Home items reduced, but we have our favourites: Aroma Home Sparkly Eyes Owl* now £5.39, this is ideal to put with a Tablet or Mobile Phone present. Aroma Home Fox Microwavable Cuddle Hottie* now £12. I have one of these and with a rather sore back this week, it's been very handy.
You can have your Aroma Home Bargains delivered for FREE if you have Amazon Prime or are spending £20 or more. If you don't have Amazon Prime or are not planning on spending as much as £20 then delivery is £3.30.