We all know that there's not as much money around this Christmas, and we know that some people are really struggling to make ends meet, never mind actually planning an overflowing Christmas. Even if there's not much under the tree, anyone that celebrates would probably still love the opportunity for quality time and a good meal with their loved ones.
When Aldi launched their new Facebook page they sent us a gift basket filled with Christmas treats, and we shared the love with PlayPennies mum, Tabitha.
"Reviewing food is highly personal," says Tabitha, "and creating a gift basket even more so. I gave these products a rating based on how they work as part of an actual gift you made up for someone."
That sounds pretty logical to us, so let's see how Tabitha got on with the basket we sent her.

"The De Rivo Orange Juice with Bits was divine", she started off. "The juice had a lovely tart note that many of the other brands don't. They usually taste excessively sweet and put me off but this had a nice edge to it that perked me up midway through the day. I could almost FEEL the vitamin C. Delicious and good quality.
Would I add this to a gift basket? Yes.Especially if you add in some champagne or some yummy Manuka Honey."
This Orange Juice came top in a Which? blind taste, was awarded Best Buy and Tabitha gave it 8/10.
The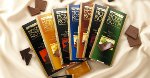 "YUM", said our tester. "This is yummy chocolate. I am fussy and these, especially the dairy milk, were lovely. My husband disappeared with the dark chocolate and I never saw it again. These didn't last long at all and I loved the presentation - these lovely large squares of chocolate dripping with decadence"
Taking the price and packaging into consideration, Tabitha gave these 9/10.
What's better than chocolate? You guessed it, chocolate washed down with red wine. The Tierra Del Sol Chilean Cabernet Sauvignon (£3.89) we sent along won a Bronze at the Decanter Awards 2011.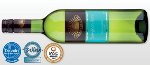 Not a red wine drinker, Tabitha's husband helped out. "He finished the bottle quite happily and that IS a good sign as he is fussy, he doesn't drink poor quality wine. He also didn't complain of a hangover the next day. It has a sharp top note with a woody and heady middle and at this price I'd give it a 10/10."
The EVOO Extra Virgin Olive Oil was an absolute hit. "I love this. I can't say it enough. While not the incredible rich and amazing quality of the olive oil you'd get in Italy, this is good. I used to get olive oil from Venice that was so rich and thick you could eat it with a spoon. This is not that. BUT it tastes great on salads, cooks beautifully and is several steps above the olive oil we usually use. This is something I would buy again and again, actually making an effort to go to Aldi to buy it. 9/10 for Hamper-y Goodness."
High praise that makes me want to find our local store.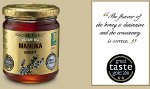 The Specially selected Active 10+ ManukaHoney caused a lot of debate in the Mrs Tabitha – household. They are honey fans and already had five local varieties in the cupboard. Her husband spread it on his French Toast and loved it. Her daughter didn't like it, and Tabitha simply wasn't sure.
"This honey looks amazing, smells amazing and tastes odd to me, but my husband pretty much hoovered up the entire jar. Manuka Honey gets 10/10 from him."
The Passions Handcooked Crisps were similarly received and Tabitha couldn't venture a score for them. She liked the packaging and the variety of flavours, but found the crisps to be hard and a little like cardboard. She wouldn't buy them again, which she felt was odd as they won the Great Taste Awards 2011.
"They are good value for money and look fab but I'd do a taste test before I included them in my hamper if I were you."
The Diplomat Red Label Tea Bags cost £1.99 and come in four vacuum bags in one box. Tabitha didn't like this from an environmental point of view. Taste-wise, however, they were great and she really liked the tea. "It has an almost malt like flavour and is so much nicer than my usual tea. I love the aftertaste much more. I buy Fairtrade only though and these are not it. Still, I plan to use this box as long as possible, a little tea treat every now and again."
She gives it a 6/10 though, due to the packaging and the fact that it's not Fairtrade.
The final item in Tabitha's gift hamper was an odd one: Lacura Wrinkle Stop, an anti-wrinkle cream that mimics the effect of a protein found in snake venom. It costs £4.99 and comes in a syringe-shaped tube.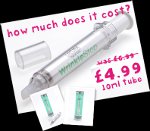 "I like this stuff and while I honestly feel you cannot properly review any wrinkle reducing product properly unless you compare the same skin for 80 years I have to say that I DID notice a difference in my skin after two weeks of using this. It tingles when you put it on, almost burns a little but my face felt tight and nice and lovely for hours afterwards. I apply it during the day and before I go to bed at night."
As a hamper product, though, she was not sure – especially of how your recipient might take it. Tabitha rated the Lacura Wrinkle Stop 7/10, losing three points - one for the syringe look, and two points for the odd factor in a foodie Christmas hamper, even though it was the winner in the Yours Magazine Anti-Ageing Beauty Awards 2011.