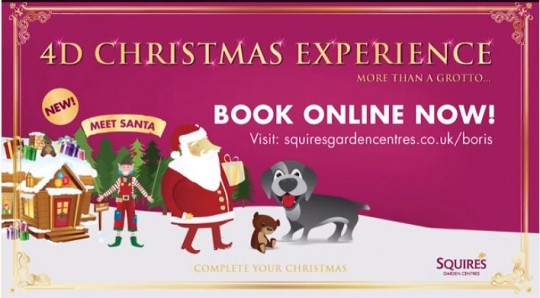 Three garden centres around England are currently offering a Christmas grotto experience that I think is really unusual, unique and totally worth mentioning. I know everyone and his dog thinks they can set up a grotto but not every visit is magical, but the 4D film adventure at Squires Garden Centres is well worth mentioning, and if it's anywhere in a day trip distance, is well worth visiting.
We went to the 4D film adventure in Badshot Lea, Surrey. We were shepperded through the garden centre to the grotto in groups, named after Santa's reindeer, which was quite cute, and made our way into a festively decorated room with a few seats. An elf - no, not a real one -does the welcome and tells you what's about to happen. Then the lights dim, and Boris the Dog starts. Boris is a 4D film adventure in which Boris tries to save a beloved teddy bear, gets lost, and makes his way home, with the bear, in time for Christmas. As a story it's not going to win any Laurette prizes, but it is still lovely and my four year old was engrossed. My one year old wouldn't put the 3D glasses on, but somehow she still seemed to watch the screen intently, and both children loved the 'snow', bubbles, and other special effects that make 4D so magical.
After a short movie, you make your way in a group to see Santa. The children all go in to see the Jolly Ol' Fellow together, which is fabulous for children who may be a little afraid or overwhelmed by the whole thing -  and there seems to be a lot of that going around! At the Badshot Lea Squires, at least, everyone was together and there were no unhappy children. They took a picture of the child with Santa, and on your way out you were able to buy a memento of the adventure.
I was also quite impressed by the gifts - my girls got a puzzle and a wooden toy, both of which were gifts I'd happily have bought for them.
The whole experience takes about 25 minutes, and you can walk away with a glitter globe, frame or Christmas baubles.
Until 15 December, children go for £7, and 18 - 24 December it's £8, and £3 per adult.
The 4D Christmas Experience is exclusive to Badshot Lea, Shepperton and Washington centres only and while it may be a trek, I'd happily drive an hour or so for this unusual and thoroughly enjoyable 4D Christmas experience again. It certainly puts you in the Christmas spirit.