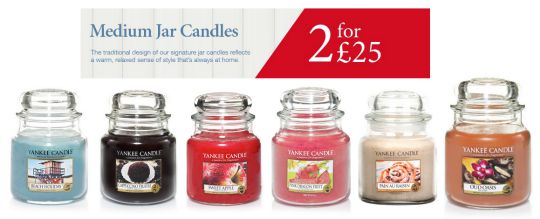 Oooh I do love a new Yankee Candle and I love them even more when I know I've got a good price on one! I really need to keep myself away from this offer but it's just too tempting to add to the collection! Over at Yankee Candle right now they are offering selected Medium Jar Candles for 2 for £25. The medium jar candles retail between £16.99 and £18.99 individually so there are huge savings to be had. These would be great to split up and give as individual Christmas presents.
Included within the offer are 10 fragrances, these are Beach Holiday*, this is definitely my current favourite fragrance, it's very fresh and reminds me of the sea. Cappuccino Truffle* which is quite a bold chocolate and coffee fragrance, Lavender*, Lovely Kiku* which has the scent of chrysanthemum blossom and warm vanilla, Oud Oasis*, another of my favourites, it is quite a rich scent though, Pain au Raisin*, buttery scent along with vanilla and cinnamon and also Wild Sea Grass*, this is a lovely outdoors scent which again reminds me of grass in sand dunes at the beach. If you like a fruitier scent then there is also Pink Dragon Fruit*, Pink Grapefruit* and Sweet Apple*. All of the medium jar's have a burn time of between 65 and 90 hours.
Standard home delivery is £3.95 but for a limited time only delivery is FREE on orders over £30, so why not add a few Votive Sampler's or Wax Tarts to your order to make it up to free delivery, it will give you the chance to sample some new scents.