Nivea Sun Protection Review (And Awesome Discounts)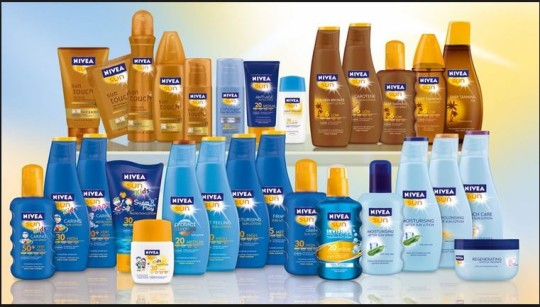 It's always nice when someone does something nice for you, and last week I opened a parcel to find Nivea had sent me a big parcel of Nivea Sun products to get me nice and summer ready.

While I don't use Nivea (or any other mainstream products) on my eczema-prone babies, I have for many years used their moisturiser on myself, so I was keen to try some of the other products. Here's how I got on:
The Nivea Sun range consists of Protect and Refresh Sun Lotion, Invisible Cooling Sun Spray, Cooling Mist and After Sun Lotion.
Before you head out into the sun, it's a good idea to pop some protection on. For that, you want to look at the Factor 20 or 30, Protect and Refresh Sun Lotion*, 200ml. This normally retails at £15, but Boots have it right now for £7.**
This Sun Lotion breaks away completely from the white paste suncream of the past. It's an incredibly light formula that doesn't leave you greasy or leave anything clinging to you - give it about 10 seconds before you roll around in the sand though. It absorbs really quickly, leaving your skin feeling cool, and normal: no residue, no stickiness, nothing.  This is water resistant, so while it's recommended that you top up if you're spending a lot of time in the sun or in and out of the pool, it should last well for normal wear.
If you want to top up while out and about - and I imagine this one to be perfect for the beach or poolside on a super hot day, and also idea for kids who don't stand still for long - the Protect and Refresh Invisible Cooling Mist is perfect too. Especially so at the current sale at Wilkinson that starts in store today, selling this normally £14 - £16 mist for just £2. If you miss out on that, Boots* have it for £8.
The Invisible Cooling Mist comes in factors 20, 30 and 50. These come in an aerosol tin, like a deodorant and spray on the same. As you spray it there's a momentary white mist on your skin and then it's gone. It leaves absolutely no residue and absorbs in seconds, leaving no sticky anything. It's really fabulous. I was worried that this one might burn my skin as a lot of spray products do, but it didn't at all. That's winning for me! Aside from immediate sun protection, this UVA/UVB spray will also cool you down in very hot weather.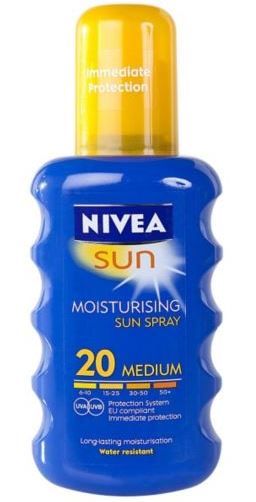 A very similar product to that is the Protect and Refresh Invisible Cooling Sun Spray. This has a pump action nozzle, so you have to spritz it rather than spray which you do with the previous one, despite this being the 'spray'. It too is invisible, non-greasy and absorbs immediately. I sprayed it on and asked my husband what he thought it smelled of. He looked at me and together we said 'holiday!', which made us laugh. It absolutely smells like lazy summer days though.
This one did momentarily sting my arms as I sprayed it on, but I do have a more sensitive skin than most people. It was gone as soon as the spray was absorbed, however, which is pretty instantaneous. Available in factors 10, 20, 30 and 50+, you do need to reapply this from time to time, but since it also provides a cooling effect, that shouldn't be a problem. This spray retails at about £11, but again, Boots* have them for £6.30 right now.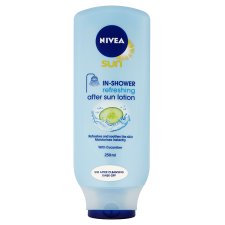 If you've had a great day out in the sun, you may want to replenish your skin a little, and the In-Shower After Sun Lotion with Cucumber is lovely. To use it, you have your wash, then apply the lotion all over your sun exposed skin. Rinse it off, and towel dry as normal. This lotion smells totally different to the rest of the range, as it has added skin-soothing cucumber. It is a lovely, refreshing scent and I can't wait for a day when I need to use it as an after sun so I can feel that fresh, sun kissed but not sore skin feeling. Lovely.
This product retails at £6.28, but Boots* have it as part of their sun care promotion for £3 as does Tesco*
Wilko currently have the regular after sun lotion on offer for £2, in store. (OOS online)
If you're specifically looking for something for children, they also have Nivea Sun Kids P

ure & Sensitive Moisturising Sun Lotion Very High SPF50+ 200ml, currently £2 at Wilko and still in stock at the time of writing, though stock levels are low.  There's also a travel size version, but you'll have to go instore for that, also at £2. They are £7.50 at Boots* or £6 at Amazon*
The Verdict
Lovely products, effective and good enough for even my skin, so 90% of the rest of the population will have no problems at all. Quite expensive starting prices, but then I'd be happy to pay more for something that doesn't hurt my skin. With the current discounts, however, it's massively affordable.
**Prices correct at time of publishing.