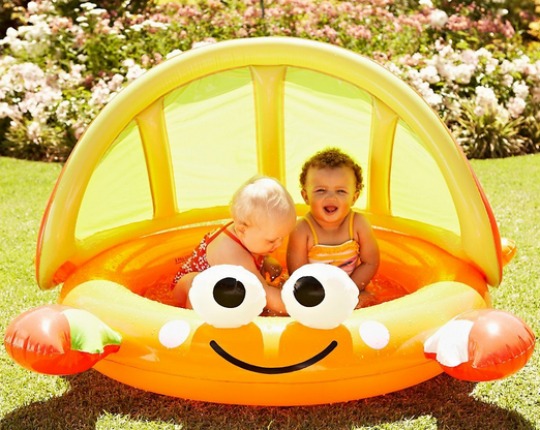 This week temperatures are expected to soar with a heatwave hitting most of the UK tonight and lasting through until Thursday, with temperatures likely to be over 30 Celsius across much of the country on Wednesday as the heatwave peaks. There are many ways we can help to keep babies and children cool in extremely warm conditions, and as young babies in particular cannot regulate their body temperatures it's even more important to keep them cool.
It's important to protect against dehydration, heat exhaustion and sunburn, as all of these can make small children very ill.
Sun Safety:
Babies less than 6 months old should be kept out of direct sunlight, so use a parasol, sun shade*, UV tent* or simply keep them in the shade.
Older infants should also be kept out of direct sunlight in high summer and between 11am and 3pm when the sun is at it's strongest.
Apply sunscreen that protects against UVA and UVB rays. The NHS recommends an SPF of at least factor 15, although most baby and children's sun creams are a much higher factor than that. Sun creams designed specifically for children are also less likely to contain perfumes and additives that might irritate young skin. Personally I use factor 50 on my children, but they are both fair skinned, and one is a red head so is much more likely to burn.
Children should wear a sun hat with a wide brim or a neck flap* 'legionnaire' style that protects the back of the neck.
Keeping Hydrated:
Make sure children drink plenty of fluids in warm weather.
When breastfeeding the NHS advise you shouldn't need to give extra water but babies may want to breastfeed more than usual.
If you are bottle feeding then you can give cooled boiled water in addition to your baby's normal formula feeds.
For children over 6 months plenty of water is advised.
You can help maintain fluid levels with diluted fruit juice, ice cubes and home-made fruit juice lollies as well. Plenty of fruit and salad to eat will also help.
Keeping Cool:
Water play in a paddling pool in the shade will help children keep cool, but always ensure young children are supervised and are within their depth.
Bedrooms can be kept cool by keeping blinds and curtains shut during the day keeping out the sunlight.
A cool bath before bedtime will help lower raised temperatures.
Nightclothes and bedding should be kept to a minimum to avoid overheating. An ideal room temperature at night is between 16 and 20 Celsius for babies.
If you would like any further advice on how to protect babies and children in the heat, or on sunburn, heatstroke, dehydration, or any other summer health issues you can find the most up to date official advise on the NHS website here.  All the information given above follows the NHS guidelines.