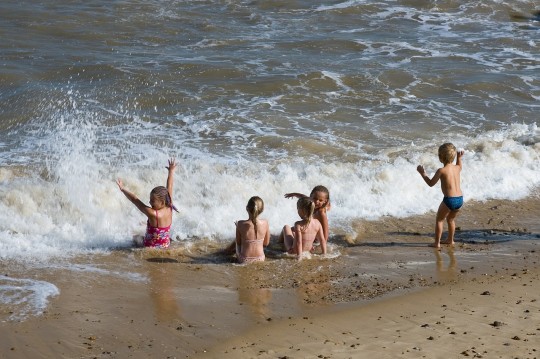 With temperatures across Britain set to soar to 35C over the coming days, a drowning prevention charity has issued an appeal for people to take note of simple safety messages to "avoid a repeat of last summer's tragedies" when many people lost their lives cooling off in un-lifeguarded open water unsuitable for swimming.
Figures released from the National Water Safety Forum (NWSF) earlier this month revealed that the peak summer months of July and August witnessed the most deaths in 2014. The Royal Life Saving Society UK (RLSS UK) is urging people to enjoy the water safely at sites designated for swimming.
RLSS UK's Director of Volunteer and Community Education, Mike Dunn, said:
"Last year saw a tragic amount of preventable deaths as people flocked to open water sites not suitable for swimming. These sites included rivers, quarries, lakes and reservoirs – all of which have many dangers including very cold water, currents, obstacles and uneven depths. They look so inviting but can be deadly. Being aware of the basic principles of open water safety, combined with knowledge and understanding of the hazards, can increase enjoyment and significantly reduce the number deaths each year. Any drowning is a tragedy but the number of people who lost their lives last summer was not only extremely sad but extremely worrying."
The charity recommends following the advice below and taking note of the dangers when swimming or playing near open water.
Don't:
Swim at unsupervised (un-lifeguarded sites) including lakes, quarries reservoirs and rivers
Jump into the water until you have acclimatised to the water temperature
Jump into the water from heights or 'tombstone'
Swim into deep water which will be colder
Do:
Swim at supervised (lifeguarded) sites
Swim parallel with the shore, where you can quickly get to safety
Swim with friends or family, so that you can help each other if you need to
Look for signs and advice about the specific dangers at the place where you are swimming
Think about what you will do if something goes wrong
Contact a reputable outdoor pursuits or coasteering centre if you want to take part in more extreme activities
Dangers of open water include:
The height of the fall or jump if tombstoning
The depth of the water - this changes and is unpredictable
Submerged objects may not be visible
Obstacles or other people in the water
Lack of safety equipment and increased difficulty for rescue
The shock of cold water can make swimming difficult and increase the difficulty in getting out of the water
Strong currents can rapidly sweep people away
Uneven banks and river beds
Water quality eg toxic algal blooms and industrial/agricultural pollution
For more information on the RLSS UK, water safety advice or details on lifesaving courses suitable for children and adults, visit www.rlss.org.uk