Celebaby: Pink Misses Willow's 1st Birthday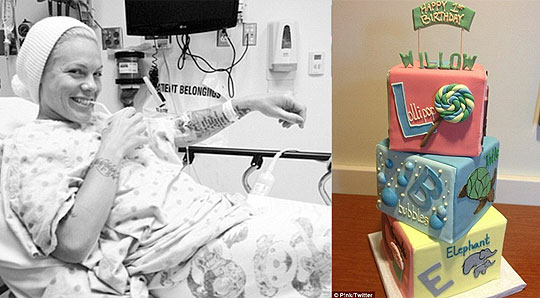 Your child's first birthday is a big one - you simply cannot believe how fast that time has gone, or how much your tiny baby has grown in such a short space of time - so you've got to feel sorry for Pink who missed her daughter, Willow's, first birthday due to being in hospital.
Pink was admitted to hospital earlier this week with suspected stomach flu and tweeted a picture of herself rigged up to a drip.  Later on in the week though things took a slightly more serious turn for the worse and she has now had her gall bladder removed!
Willow's first birthday wasn't the only thing scheduled in her diary, Pink was also due to perform for President Obama and tweeted her clear disappointment that this, too, was going to be missed...
"So now I've let down my daughter and the President. Wow. Great week."
It wasn't all lost though, Pink's husband came to the rescue with his 'if mummy can't come to the party, we'll bring the party to mummy' plan.
He brought Willow and her AMAZING birthday cake to the hospital; I've seen some fabulous kiddie birthday cakes in my time, but Willow's may have to be my favourite - it's cute, elegant, personalised (the stacking blocks feature her favourite things) and I just love it!
So, it appears did her mum, who tweeted...
"Thanks family 4 bringing my lil girls party to the hospital all weekend for me. I spose it doesn't matter where u r when u eat ur 1st cake!"
This is very true, there's never a wrong time or place for eating cake!