Celebaby: Light And Fluffy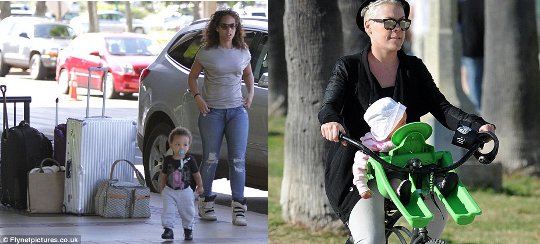 I'm tired of all the bitching, complaining, backstabbing and general 'bleurgh' that's going on - Peter and Katie are at it again (arguing and being 'mean' to each other in public, rather than 'at it'), Halle Berry and her ex, Gabriel Aubry, have been digging at each other and throwing legal action around for at least the last 18 months; so much so, in fact, that a judge has ordered them to take parenting classes for the sake of their daughter Nahla!
So today's Celebaby is nice and light and fluffy - because that's how I like things.
Willow and Pink
After the initial flurry and hoo-hah surrounding Pink, hubby and baby Willow when she was first born, we don't really see much of any of them now - I'm sure their more than happy with that too.
But Pink and Willow, who's seven months old now - can you believe it!, were spotted out for a bike ride together recently.  The mum and daughter duo were photographed happily riding along Venice Beach in California - Willow was riding up front in a little baby bike seat and, wow, she's a little cutie.  I hope we see some more pictures of her soon, maybe on her first birthday if not before.
Egypt and Alicia
After the initial flurry and hoo-hah surround Alicia Keys, hubby and baby Egypt when he was first born, we don't really see much of any of them now either.
I know it's easy to believe that these celebs do nothing but go on holidays to various beaches all year long, but Alicia Keys is definitely one of the hard working behind the scenes kind of celeb' girls - she puts a lot of time into her foundation called Keep A Child Alive, which works to protect families and children affected by HIV and AIDS in both Africa and India.
However, she has just recently taken a week off and jetted over to Hawaii for a week with her husband and young son, Egypt, who's 15 months old now (time really seems to fly by watching all these babies growing up!).
Egypt seemed to be having a fun time hanging around at the airport waiting for his flight home - he's up and toddling around and was photographed making the occasional 'dash for it' across the airport concourse.
Cute and happy times when you're that age, that's for sure - what a shame we don't remember ourselves being that age and be able to appreciate it.