We're not a massively sporty family, and we're rarely up and out before the sunrise, but we do enjoy our time in the forest, and my daughters - my youngest specifically - are like moths to candles when it comes to puddles. My youngest makes a pass time of falling body first into them. Puddles are my nemesis when we're not prepared for them. For this reason, the child practically lives in Wellies. And for this reason we also have a variety of different rain wear outfits for the girls, something that has come in very handy over the past couple of months in our part of England. So when Mum 2 Mum sent some rain wear to PlayPennies HQ, they went pretty speedily to my in tray, and I wasn't arguing.
Mum 2 Mum Rain Wear is made with the 'latest in fabric technology" I'm not really sure what that means, but for waterproof, PU coated clothing, it is soft and comfortable, and it is definitely pretty sturdy material... none of the flimsy 'waterproof' thin material I've found in other waterproofs we've bought. 
The Rain Wear sets come in a jacket and an overall 'pant' as they call it, but it's really a dungaree style, making it perfectly versatile for colder and warmer wet weather.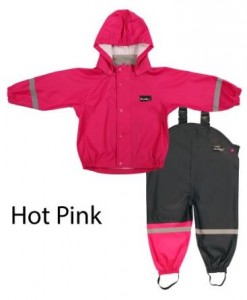 The jacket has a fleece-lined collar for added comfort - no itchiness - and that little bit of warmth added. The hood is detachable, which is really brilliant and again adds to the versatility. The only improvement really would be if the hood could be stored inside the jacket somewhere. There are four poppers around the neck (outside, so there's no water running down your child's back!) to close the hood snugly too. 
The overalls have easily adjustable shoulder straps  and clips to allow for growth and seasonal outfits. There's an extra side popper on each side, giving you an extra 5 or 10 side ways growth, which is great for this very cold weather as it means they can wear coats under the waterproofs, giving them no excuses to be out doors. The elasticated leg openings have optional stirrup straps to fit over or hold inside your wellies. This is really useful but if your child is likely to get into puddles over the depth of their boots, I recommend wearing these outside the boot. That way water has to go up and in, rather than just waterfalling into the shoe, leaving them with wet socks. This may reduce the life of the stirrup strap though, so use at your own risk!.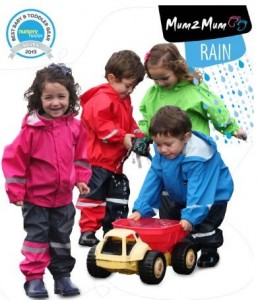 An added touch that I think is just fab is that the there are reflective strips along the bottom of the trousers, and along the waist and wrists of the jacket.  I don't think every moment of life is dangerous, but why not add a bit of safety where you can.
My oldest started attending forest school since she was just two years old, and I have seen many different brands and styles of rain wear, and I can honestly say that - while we have many we have worn and liked over the period (especially a really cute spotted one with a heart shaped pocket - this is by far the sturdiest construction, and the softest 'feel'. The only down sides is that there aren't attached waders (for the feet) or a storage space for the hood.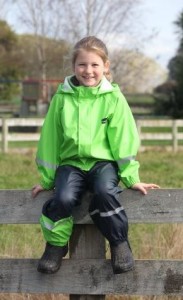 Available in Hot Pink, Royal Blue, and Lime Green, would I pay £49.99 for this combo? Well, that's hard to say. I've never spent that much on any child's clothing, ever. I'm a bit of a tight wad when it comes to children's clothing, because my girls add an inch a month, on average. That said, it's by no means the most people would spend on children's clothing, especially if it's going to keep them warm, and if you think that this includes the rain suit and a rain jacket... it's actually pretty good value. I've bought rain suits for up to £30, just the suit. So, yes, I think it is good value. And if you get it in a green or blue, or don't mind your son in pink, it has good hand me down value. I'm assuming it should last a few seasons. The quality is good.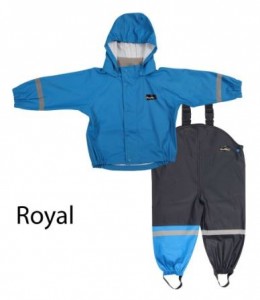 The Good
Sturdy, warm and very versatile
Good added value in the extra space. We have a two year old outfit and my four year old can fit into it in summer clothing.
Love the reflective strips.
Love the soft material. My daughter is happy to wear it.
The Bad
It's really not bad, but I think I'd prefer a wader foot so no water could get in, and a storage space for the hood would be great. That doesn't make the product bad though, it's just possible improvements or options.
The Verdict
Would I buy it again? Yes. Would I recommend it to a friend? Yes. Will it help us get out in the forest more despite the cold? Well... if they did it in adult sizes, for sure.