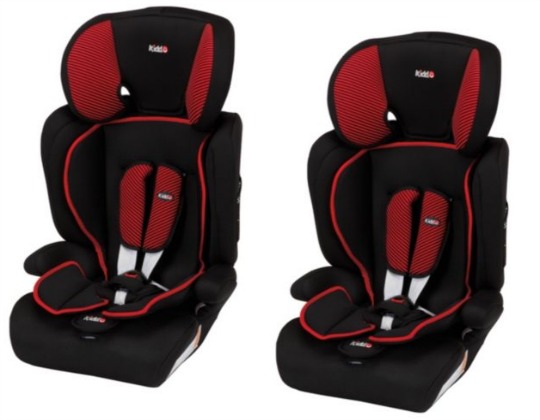 Update 13.32. Looks like Amazon have now removed it from their site too.
Not sure if you have seen the video of the disgruntled (to say the least) man at the entrance of a supermarket, showing how scarily easily the car seat unfastens. His wife then prompts him to tell the viewers what happened to their son when the car came to a sudden halt. He came right out of it and hit his head!
This actually turns my stomach at the thought. If an accident happens and a child is in this seat, I can't even bear thinking about the consequences.
What car seat is it that they talk about? The Kiddu Lane Red/Black 123 Car Seat and it has been available to buy in the big supermarkets, Asda and Tesco. We have noticed they have stopped selling them online and we sincerely hope that they have in store too.
If you have one I personally wouldn't hesitate to take it back to where you bought it from. Sure, you can get one faulty product out of thousands but when it comes to child safety you just can't ever be too careful. Amazon are still selling it here*! Read the reviews, it's blood-curdling.
If you have a Kiddu Lane and are looking to replace it with a new car seat, or are just looking to purchase a new seat, have a look at our blog on how to choose the best car seat for your child.
This is what Stacey Tennant had to say about the Kiddu Lane Car Seat:
Kiddu Lane 123 Car seat purchased from Tesco but available at many other retailers including Asda. Three weeks ago this car seat was returned to Tescos after the Car seat buckle failed on its first use. The store manager and her staff all demonstrated the same fault as we did in this video.When an Emergency stop was performed my 22 month old child was thrown out of his seat in the back and he landed on the gear stick in the front. He was bruised and is still traumatised by it as he screams when we now put him in a car seat. Today I chased up Kiddu who initially said they would send us their report. They have since said they wont be sending us it and will be doing nothing. Meanwhile this seat is still on sale and we are going Viral to prevent any further injuries or worse- a fatality.Please return this seat and insist on a refund.