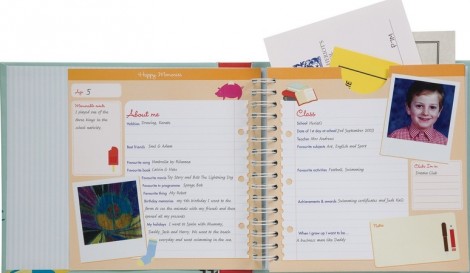 K Two have a gift for making really cute and interesting stationary. I am their ideal victim because I utterly adore anything to do with stationary and could happily spend hours looking at everything that's available on their site. I was tempted by, and got, the School Memories diary.
The School Memories diary isn't really a diary at all, in fact I am the one who gave it that moniker because it isn't a personal organiser but it is a "keeper of memories". This product is where you can store all your child's school memories for years and years to come.
You will love leafing through it as they get older, and they will really appreciate it when they are of an age to appreciate such memories.
The School Memories book has a hard and sturdy cover with cute schoolific images on it. The pages are kept together in a ring binder format on the inside and are made from quality paper that doesn't tear easily and can take quite a bit of strain.
It is important that they DO take strain, as they are to hold papers, notes, pictures, crafts and other such things that your child creates throughout the year. You have a choice of using a double-page spread per term or per year or per child.
Even though each set of pages has a slot of First Day At School, I have turned it into a term-based diary with each section saying how old she is, what educational advancements she made, and my favourite drawings neatly packed away in the provided folder.
The School Memories diary is a stunning idea that will hold treasured memories safe for years. My daughter and I love updating it together and it costs only £16.50 for the pleasure.