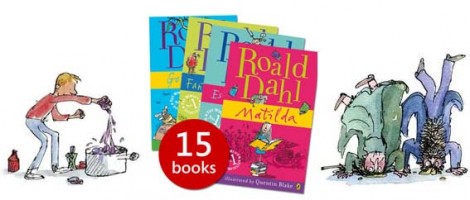 If you've been missing out on this Roald Dahl book collection each time it's on offer with The Book People, now's your chance to try again; QUICK, this never stays in stock for very long!
I adore books; I loved them as a child and I love them as an adult.
Enid Blyton was the first author I remember but Roald Dahl HAS to be my most, and enduring, favourite of them all.
My youngest, and his dad, have recently finished reading Fantastic Mr  Fox at bedtime – it was the first 'long' book and he adored the tale of Foxy and Badger, along with cider-swilling Rat.
I watched some of the Fantastic Mr Fox movie a couple of months ago and ended up turning it off - there's a TON of stuff in it that was never ever in the book and THAT just isn't on, you don't go messing around with Roald Dahl stories!
The BFG and The Witches have both been translated to movies for TV too and, thankfully, they stayed very true to the original books and are just marvellous.
Talking of marvellous, George's Marvellous Medicine is also up there on my 'most favourite Roald Dahl books' list too.
Fifteen books make up this Roald Dahl book collection and they're yours for £15.99 instead of £93.85.
Thanks to kimmywim at HUKD