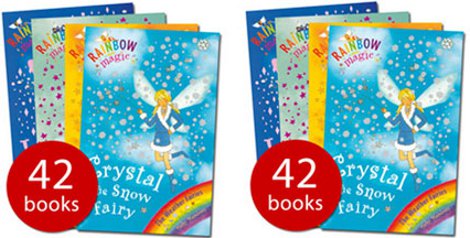 The Rainbow Magic Stories Collection is £20 at The Book People right now, which is 88% off from £167.58 – which seems really high, and makes this almost a steal.
Okay, I'll come clean right away and say this – I have no idea who or what the Rainbow Magic Stories are. I've never heard of it, but with 42 books in the collection, and five star reviews from each of the 22 reviewers, it sounds pretty good – especially at £20.
Some of the titles in the collection are:
Bella the Bunny Fairy
Lauren the Puppy Fairy
Katie the Kitten Fairy
Georgia the Guinea Pig Fairy
Tallulah the Tuesday Fairy
Thea the Thursday Fairy
Sienna the Saturday Fairy
Ruby the Red Fairy
Saffron the Yellow Fairy
Sky the Blue Fairy
Heather the Violet Fairy
Melodie the Music Fairy
Cherry the Cake Fairy
Polly the Party Fan Fairy
Crystal the Snow Fairy
Pearl the Cloud Fairy
Storm the Lightning Fairy
Evie the Mist Fairy
Amy the Amethyst Fairy
Emily the Emerald Fairy
India the Moonshone Fairy
All names that make it sound like a series suitable for a little girl and the age range is indicated as 5 and above. According to The Book People, these books are "Great for bedtime and perfect for easing children into chaptered reading and building their confidence, these fun tales are filled with gentle and familiar themes – just right for reinforcing vocabulary and encouraging an enjoyable reading experience."
Spend an extra £5 and you'll get free delivery (orders over £25) or spend an extra £10, and you'll get 10% off with the code SUNSAVE too  and still free delivery) otherwise standard delivery starts at £3.95.
Thanks to mum2littleangels at HUKD